Cazon Endurance Village is nestled amid the lush forests and agrigultural lands of Saladillo, in Buenos Aires province. Cazon Endurance Village represents the vision of Eduardo Beccar Varela and Mercedes Tapia. Mercedes is one of Argentina's top Endurance Riders, having represented Argentina in two World Championships and recently earning the Silver medal in the 2005 Pan American Championship.

Eduardo and Mercedes train Endurance horses at their farm 'El Reparo' near the town of Cazon. Miles of sandy roads provide perfect year-round training and also perfect trails for competition. Both Eduardo and Mercedes are equine veterinarians, and their work has kept them involved with many of the regions top breeders and competitors in various sports. Continue...
---
At El Reparo, Mercedes and Eduardo have established a major training stable for endurance horses. El Reparo trains and compete horses for other clients including Claudia Quentin of Estanar Endurance.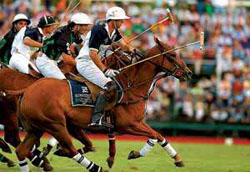 In addition to running El Reparo, both Eduardo and Mercedes work for several large Polo horse operations: Eduardo as an equine orthopedic surgeon, and Mercedes in breeding and reproduction. Eduardo's long contact and friendship with the Polo community has given their operation and their Endurance goals new and interesting twists. Continue...
---
El Reparo Endurance Training Center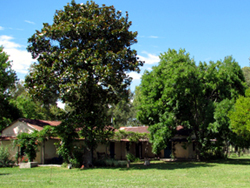 I'm sitting on the back porch of the little adobe house of Mercedes Tapia and Eduardo Beccar Varela, enjoying the sun and the bird songs, taking refuge from the wind. Mercedes and Eduardo bought this property (approximately 80 acres) a few years ago from a third generation Italian family. Lemon trees, grape arbors, figs, pears, apples, a still visible Bocci Ball court, and stands of huge eucalyptus trees - evidence of the lives of the Italian farmers that lived off this land for much of the past centuy. The little Italian farm is now 'El Reparo' - home to Mercedes and Eduardo, and a thriving Endurance training center. Continue...
---
Travels