March, 2006 - Another Sprint Cup Event
This was my fourth trip to Argentina.

Part 1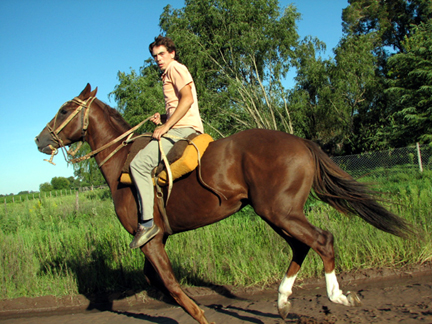 The landscape is more familiar, the language is a little easier and I spend a little less time gawking at the handsome gauchos and wonderful horses (how many times I have seen lone horses picketed in empty lots, highway medians, yards, anywhere that grass can be found - and thought 'wow! that's a nice horse!'). People still use horses for transportation here, the tracks of hooves alongside the tracks of tires on the dirt roads. (the photo at right was taken along the road outside of Saladillo)
While I'm not quite as entranced by the foreigness of the country, I am becoming more and more drawn into the friendships that I've found here. Familiar faces, friendly smiles (everybody smiles when I carry a camera:) - riders, grooms, trainers - people that I've seen many times now, and on several different continents. Children that I've seen grow taller, families larger. For me, this trip to Argentina was about friendship.
One can feel an immediate familiarity, comfort, with some people, but it is the time, the sharing of experiences (good and bad), the understanding of the depth of the person, that begins to build true friendship.
So - my fourth journey to Argentina, for the Sprint Cup II. I was met at the airport (long long flight, a bit sleepy) by Miguel Bourdieu. Miguel is the manager for Terabusi, one of the Polo 'partners' of Cazon Endurance Village. Miguel is a high level polo player, and a wonderfully friendly and energetic man. We grabbed my suitcases (a few clothes, lots of Endurance Net Tshirts, and a big box of colored flagging for marking the trail) and hit the road, with gusto. Watching Miguel drive, I can just imagine what he must be like on the Polo field. He zoomed in and out of traffic, left hand holding his cellphone to his ear, constantly talking, right hand alternating between the steering wheel and the stick shift. Wow.
I was wide awake now. No problem though, I was enjoying the motion after so many hours of sitting. We stopped several places on the way to Saladillo, talking to the Coca Cola guys, the Quincho (barn) guys, lots of different guys, stopped at the little store outside of Saladillo to buy cheese and sausage for dinner (where, with the rain pouring down outside, the tiny shop dark and still inside, the owners told Miguel of their recent tragedy - their son and his entire family had just been killed last week in a traffic accident - how to go on... their faith and trust in God the only thing that could carry them through), and finally, with black skies and rain pouring down in sheets, slipping and sliding along the dirt roads, splashing muddy water over the windshield, we arrived at El Reparo, home of Mercedes Tapia and Eduardo Becar Varella. These are good friends! I felt immediately at home, such good energy, warm smiles, so many shared experiences.
A few bottles of red wine, cheese, bread, sliced sausage, and talk of the coming race. This is Tuesday night, the race is Friday and Saturday, so some race details were discussed, and also a fair amount of 'what if', 'what about', - talk of the future of the sport and the village. To bed sometime after midnight, and I slept very very well that night - didn't awake until 11am the next morning. (Eduardo later told me that the bed I was sleeping in was 200 years old, a family antique, still with the original wool mattress (it was a little hard, and shaped somewhat like a bowl) - I think I must have been sleeping the sleep of 2 centuries of Argentine nights).
When I finally rejoined the world, the household was in full motion. Mercede's daughter Flor was there also, with her best friend Clementine, and Lucia - veterinarian, friend, rider, lovely. Eduardo and Mercedes were out at the village, setting things up, getting horses ready, settling arriving riders and horses, doing a zillion things at once. I drove out to the village with Flor, Clementine and Lucia. Mercede's just-cleaned SUV was totally covered with mud by the time we arrived - the sun was shining brightly, but the roads were deep with mud and water.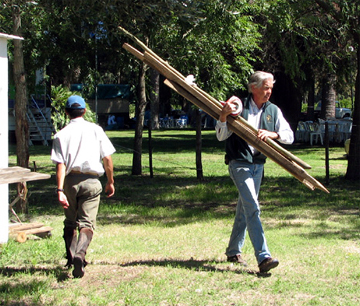 Riders arriving, helpers to instruct, signs to put up, office stuff to prepare, officials to direct, etc etc - the day was full with ride manager 'stuff'. Mercedes and I went into town in the afternoon to get fuel and pick up some things - vests for officials, rider cards, ribbons, more stuff... we had a cup of coffe and headed back to Cazon to find a frazzled Eduardo - one of the arrivals was unhappy with the parking and horse unloading system, and Eduardo had to deal with tempers, rules, decisions... too much. Hours later, dark sky but with a bright moon, finally back home, tired, but a lot accomplished, and more plans for the next day's tasks.
Another deep sleep with the ghosts of the Pampas, and the next day starts. Today Mercedes and Flor would start taking ride entries (inscriptions) and assigning stalls and parking the arrivals. Eduardo and I would go out and start marking the trail. Originally Eduardo was going to stay in camp and I would go out to mark trail with Walter, who was an experienced trail guy, and here to help, but 'it was decided' that Eduardo needed to get out of camp for a while, away from the stress of the details of arrivals, parking, questions, problems... Walter would stay in camp and be the smiling face of ride management.
A lovely morning out flagging the course, bright sun and fresh air from the recent rains, dogding puddles, tieing colored ribbons to roadside weeds and fences, wiring big colored arrows to direct riders when a turn was necessary. Then Mercedes called - 'I need the scale!' - she was sounding a bit like Eduardo sounded the day before... the challenge of trying to get things done while answering questions and dealing with small crisis (need to pick up the vets, organize the volunteers, coordinate registration (Flor and Clementine's job for the day), and - damn - where's the scale - need to weigh riders). We drove back to the house to get the scale and worked our way to camp, hanging a few more ribbons, another call 'I need the scale!'. On to Cazon, back to the craziness of organizing a ride.
I had planned on going back out to mark more trail, but got caught up in camp stuff. Helping here and there. A hand on my shoulder - Miguel! More wonderful friends - Miguel and Celina Pavlovsky, and their huge wonderful family. So good to see them. I wouldn't have much time to visit with them during this trip - Miguel, Pablo and Maiko were riding, (along with Hugito, Analia, and various other members of the Pavlovsky - Mendez group) and the rest of the two families would be crewing. The maroon/black 'San Andres Del Moro' colors everywhere. And still some of the best horses in Argentina!
More stuff to do, the camp was full now, tons of activity, horses everywhere. I caught a brief glimpse of Hillorie Bachman (here again from the US to ride another Polo horse) - but didn't see much more of her during the weekend - too busy.
Soon - Part 2