El Reparo and The Polo Connection: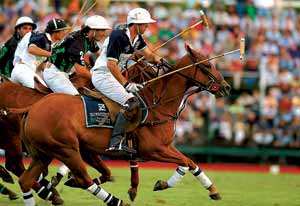 photo: Gonzalo Pieres (h.), Sebastian Merlos, Javier Novillo Astrada y Bartolome Castagnola / Foto: Sergio Llamera

At El Reparo, Mercedes and Eduardo have established a major training stable for endurance horses. El Reparo trains and compete horses for other clients including Claudia Quentin of Estanar Endurance. In addition to running El Reparo, both Eduardo and Mercedes work for several large Polo horse operations: Eduardo as an equine orthopedic surgeon, and Mercedes in breeding and reproduction. Eduardo's long contact and friendship with the Polo community has given their operation and their Endurance goals new and interesting twists.
Polo is Argentina's most popular equestrian sport. It is a major industry, with fortunes being made by players and breeders alike. Argentine polo horses are exported around the world, and Argentine polo players are recognized as some of the world's best players.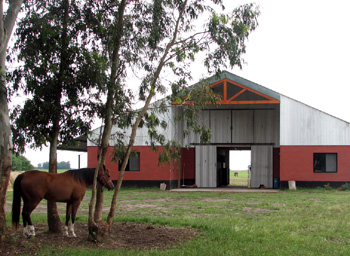 A client of Eduardo's, Gonzalo Pieres, one of Argentina's celebrated polo players, also has a keen interest in the greater equine industry. Mr. Pieres became intrigued with Endurance after hearing stories of Mercedes' travels and competitions around the world. Endurance is still an emerging sport in Argentina, but is quickly becoming very popular here and around the world and iscapturing the attention of many with the power and finances (e.g. United Arab Emirates) to rocket the sport well into the world of FEI - International - competition . This makes the sport interesting to investors and sponsors because there is still opportunity to join the world of International Endurance, to get in 'on the ground floor', and to become part of the growing Endurance indstry.
Pieres understands that Endurance will provide new connections, new associates, and new markets to the horse industry. He recognized that Eduardo and Mercedes had the location and skills and connections to advance Endurance in Argentina, and offered them the support and financing to do so.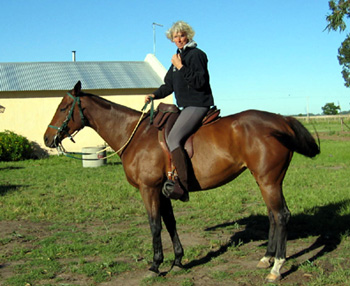 Once the vision was in place, to make Saladillo the 'capital' of Endurance in Argentina, two other Equine sportsmen with strong ties to Polo, Miguel Garcia Labougle and Carlos Reyes Terrabusi, joined Eduardo and Mercedes. Miguel Bourdieu, manager of Terrabusi's operation and a good friend to Eduardo and Mercedes has been active in building the grand partnership. Their vision: to bring Endurance equestrains from around the world to Argentina, and to build Argentina's first Endurance Center. The Sprint Cup Series and Cazon Endurance Village are the center of that vision.
In addition to the mingling of Endurance and Polo there may be a few other developments such as a a new market for polo horses. A century of breeding of polo performance horses in Argentina has produced a Polo Horse (orginial Thoroughbred bloodines) that has many of the characteristics of the Arabian performance horses. The polo horses are generally smaller, tougher, and quick than other Thoroughbred horses (e.g. racing, eventing, jumping) and they are tremendously sturdy. El Reparo is currently training several polo horses for endurance. Some of the polo horses do not adapt well to the mental rigours of polo (just as some horses don't adapt well to the confines of arena sports) but still posess the stamina and tireless work ethic that is needed for Endurance.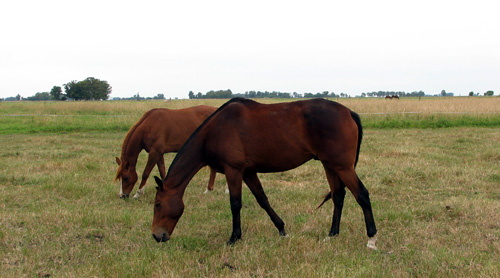 So far, the results are promising - the horses are showing excellent endurance, stamina, and also good recoveries. Plus they are built for hard work and less prone to lameness. Most of the polo horses at El Reparo are still young horses (6 and 7 yrs), but had already spent a year or two in foundation training for polo. The challenge for El Reparo will be to build endurance in the horses through aerobic conditioning, and try to recondition them mentally as well - the secret seems to be maintaining light hands, light seat and allowing them to move forward freely.