El Reparo Endurance Training Center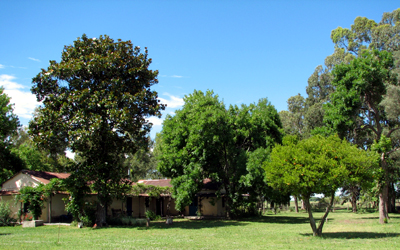 I'm sitting on the back porch of the little adobe house of Mercedes Tapia and Eduardo Beccar Varela, enjoying the sun and the bird songs, taking refuge from the wind. Mercedes and Eduardo bought this property (approximately 80 acres) a few years ago from a third generation Italian family. Lemon trees, grape arbors, figs, pears, apples, a still visible Bocci Ball court, and stands of huge eucalyptus trees - evidence of the lives of the Italian farmers that lived off this land for much of the past centuy.
The little Italian farm is now 'El Reparo' - home to Mercedes and Eduardo, and a thriving Endurance training center. They have spent the past couple years fixing up the older structures, repairing pumps, wiring, plumbing, and remodeling the old house.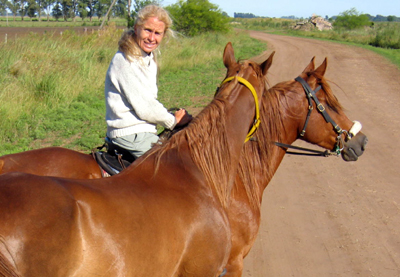 There are also several new additions to El Reparo including: a modern stone and adobe barn, a thatched roof barn with stalls, a bathing stall, corrals,and a small house for the fulltime helpers. They are also in the process of installing a walker and a treadmill for their training program. And with the miles and miles of sandy roads here for year-round training El Reparo is thriving.
El Reparo is just outside of the tiny pueblo of Alvarez de Toledo, not far from Cazon where they have built the Cazon Endurance Village , and a short drive to Saladillo - a city of around 10,000. All of this is about a one hour drive from Buenos Aires.
It's great to be here - very cool to see all of the work and energy that Eduardo and Mercedes are putting into their place, and the Cazon Endurance Village. They have been training and competing on horses from Las Cortaderas (Claudia Quentin - Estanar Endurance) and are now establishing some interesting connections with the world of Polo.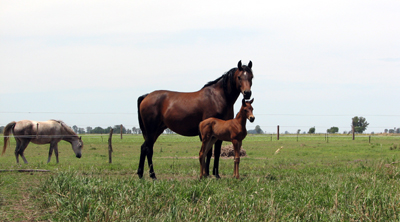 I rode one of the polo horses a couple days ago - a 6 year old mare, fairly tall - maybe 15.2 - very strong and steady and seemingly tireless. She has some behavioral problems from early polo training that didn't suit her, but she's starting to relax more and seems to have a very good work ethic. Mercedes will probably enter her in the 80km ride on Sunday.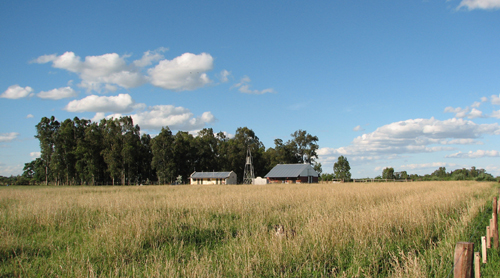 El Reparo - photos - click thumbnail to enlarge