Add Your Comments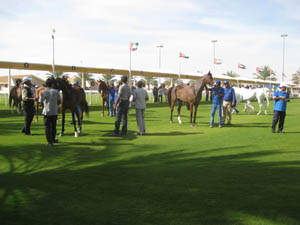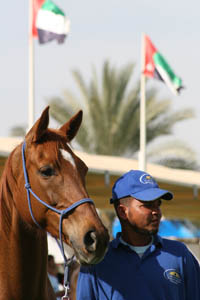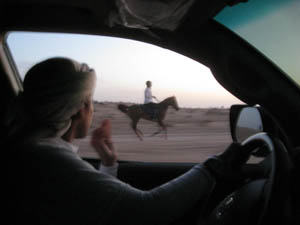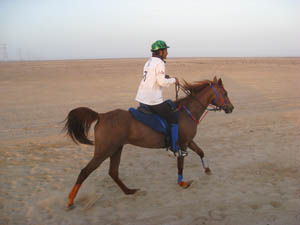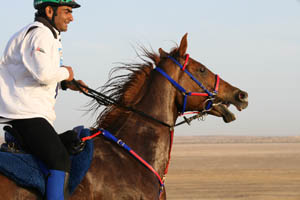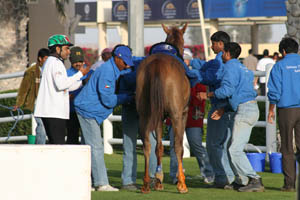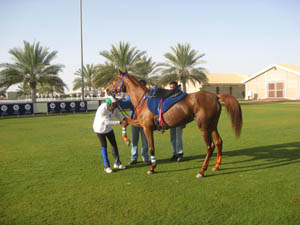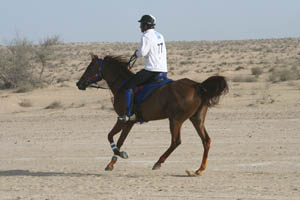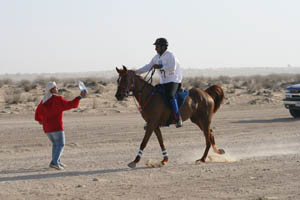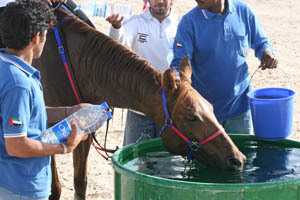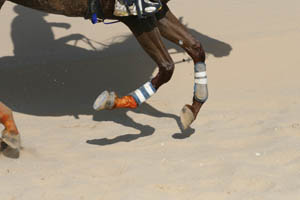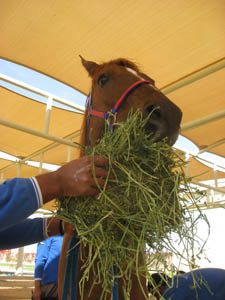 HE Shaikh Maktoum bin Hamdan Al Maktoum Cup - 119 km
Saturday February 21 2009
Full Photo Gallery
While the goal of many of the 90 starters in the 119-km FEI CEI* HE Shaikh Maktoum bin Hamdan Al Maktoum Cup was to win, Shaikha Madiya's goal for her mare Cindy was to finish at an average pace of 20 kph, vetting in under two minutes in the vet gates. If she finished, and did well afterwards, a faster 120 km in March would be under consideration. Madiya had her assistant trainer Ali Khan ride today; she would be part of the crew.
We arrived at the Dubai Equestrian Club at 5:30 AM; one of the boys was already warming Cindy up under saddle in the cool damp desert morning. The start was to be at 6 AM, but it was inexplicably delayed 15 minutes. The more the horses circled under the lights at the venue inside the starting gate, the more excited some of them got.
Away the field went at 6 AM, and off we went onto the track after them. Two of Madiya's grooms followed Ali and Cindy in a 4x4 pickup, and I rode with Madiya in her vehicle.
Not two miles out from the start, as we raced along trying to catch up with Ali, we suddenly came upon a rider who'd just been dumped. The horse kept going. The rider jumped in the car with us, and we raced ahead and jumped out of the car and tried to wave down the loose horse, as did people in a few other vehicles. The horse slowed down to a walk near me, but he had no bridle or halter or anything on his head - no way to grab hold of him, and he wasn't standing still. The hackamore (hackamore!) had come off in the rider's hands. The saddle - which was tiny as a flat racing saddle - had slid sideways on the horse.
A group of 20 riders was coming up, and they all stopped and waited till the horse was caught and re-hackamored and resaddled. I was a bit surprised that they all waited, but then these riders weren't the frontrunners.
Off we went to catch up with Ali and Cindy, who was cantering along, right on 20 kph. Cindy had other ideas than a conservative canter, and pulled on Ali and threw her head in the air up for much of the 20 km loop. "You can gallop the last loop if you still want to!" Madiya told her out the window. It was too cool for most of this loop to put water on the horse, but by the time Cindy had passed through the little hills with the deeper sand and the orange sun ball had been over the horizon for an hour, already warming up the desert, she got the water bottle treatment.
27
While the leaders were cruising along at 26.6 kph, Cindy arrived at vet gate 1 right on 20.7 kph, the stable boys falling to work on her, cooling her off and getting her into the vet gate quickly, vetting in after 1 minute 54 seconds. 9 riders were eliminated at gate 1.
After a 30 minute hold Cindy was out on the course again, and this time she was over her urge to run faster, settling into an easy working canter. Madiya and the boys leapfrogged ahead of her, jumping out of the car to pass Ali water bottles on the go. Madiya talked encouragement to Cindy as we followed along right beside, cruising with loud music blaring from the stereo. "Cindy likes Country Western Music!"
Cindy cruised through the loop back to vet gate 2, right on 20 kph, and vetted in at just over two minutes, and she trotted out well and was led back to her covered area to eat and get her legs ice-booted. But after a few minutes when she moved around, it was evident something was bothering her in a back leg. The ice boots were removed and she was found to have a rather strange swelling just below the hock of a back leg. They retired her from the ride - suddenly our day was over. But nobody was upset - better to quit early and have Cindy for another ride then to have a horse with a serious injury.
(At the barn later, Madiya's Italian vet Massimo ultrasounded the swelling and found only damaged fascia, recommending icing and sweating).
27 horses vetted out after gate 2.
With Cindy in good hands with Ali and the grooms, Madiya and I jumped back in her car and raced out on course to catch up with "Sponge Bob". Madiya had ridden Molly's Valiant Heart in the US on two 100-mile rides, and Bob was here in the UAE now, doing his first ride in the sand. Madiya drove alongside him, talking to him the whole way out her window, jumping out at the water stops to pet him. Bob vetted out after the 3rd vet gate from lameness.
Meanwhile the race went on - Ali Khalfan Al Jahouri, riding Waseem Montasan from Al Wathba Stables, had been in the top 4 the entire ride, and he crossed the finish line first, just under 8 minutes ahead of Abdullah Thani bin Huzaim, on Skyros de Peyrois from Emaar Endurance Stables, who'd made a big move from 35th to 15th to 3rd to 2nd place. Total ride time was 4:47:37 for an average ride speed of 24.82 kph. Salem Rashed bin Ghadayer from Fazaa Endurance Team rode Deen to third place, with Hassan bi Ali of Shaikh Hamdan Al Maktoum's stables was fourth on Blakheath Kira. 36 riders completed the ride.