Add Your Comments
---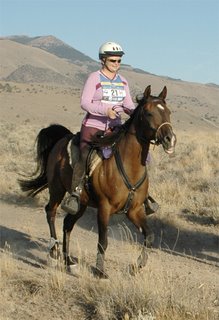 Skyla Stewart and Tempo
Where to start-how about near the beginning to set the "stage" for why this accomplishment meant SO much to me. I have my first endurance horse still with me, AW Habod, he is now 26 and enjoying a leisurely lifestyle. Habod "self retired" at 12 or 13 when he broke a coffin bone at home in his field (of rocks). The coffin bone healed fine but he ended up with a secondary issue of low ringbone which ended any distance career. At this time he was at 2665 AERC miles, and it was heartbreaking to know we would never reach that major 3000 mile victory.
For nine years following, I had also been forced into a type of ride "retirement" due to some rather unpleasant life changes. It was at this point my boyfriend (now husband) asked me to marry him, and did I want a ring or a horse for my "engagement"...uh huh, like I NEEDED to think about that answer?? Needless to say, I have been riding my engagement "ring" for over 3000 miles, hee, hee. VERY smart man, very, very smart man. :o)
DA Antar Shalou, born 4-19-91, a big bay Al Khamsa & Egyptian Arabian gelding, this is the horse of a lifetime. He just passed the 3000 mile mark at the Old Selam ride on day two. I have had two such "once in a lifetime" horses, how lucky is that!?! Tempo, as he is called, was bred by Bob and Sheila Harmon of Destiny Arabians here in Eagle Idaho. Bob and Arlene Morris had acquired the unbroken 8 year old gelding, and Bob made Tempo (known as Phylite at the time) his personal riding horse. After a year of searching for a horse, I got a call from Morris' to come take a look at what they had. Well, ONE ride on "Phylite" was all it took, I knew THIS was to be my next soul-mate. After vetting him out, I changed his name to "Tempo" and we began our lives together. Tempo began doing 50's at age 11, with me as his jockey, he was a LOT of horse, he "tried" really hard to be good, which encouraged me to keep working at him. The ONLY time he was so much horse was at endurance rides. I remember them making sure to clear a take-off strip for us at the out-vet holds, as once I started my leg up he was taking out EVERYTHING in his path! It was not only embarrassing, it was down right dangerous, we just had to really pay attention when it was time to mount up. Man I sure do NOT miss those days! Today he is mostly well behaved and a great pleasure-most of the time. Tempo loves life, loves riding, is very expressive and has spent most of those 3015 miles with his lips flapping all over the place. I have more pictures of the inside of that horse's lower lip then I care to think about...ARGH! He is opinionated, loving, independent, generous, kind, grouchy, strong, gentle, can be patient to a fault or impatient to a fault, but he always likes to "go for a ride". He loves having a horse follow him as he IS a leader. Tempo is just a fun horse to be owned by and he makes friends everywhere he goes! There is no place I like better, then sitting next to him at the trailer. He LIKES me and he lets me know it, he wants me to be with him, yet he won't hesitate to leave my hind-end on the trail if he takes a notion to and I have dropped the reins. He just walks off, his eyes glaze over and he heads off to his own "walk-about". You can NOT get him to follow a horse, catch him from a horse, or come back to a horse or group of horses. Tempo doesn't "need" anybody so catching him comes down to either he decides to come back, or he decides he has gone far enough. I hope he continues with all his little quirks for 2-3000 more miles. If his body is willing I am betting his mind and heart will be right there.
Tempo is the kind of horse that people notice, he is big, bold, and "weird". This horse is a friend to me, I can NOT imagine for one moment not having him in my life. I try my best to do right by him, to allow him to enjoy what he does yet temper it. Now with the 3K behind us maybe I will relax and let Tempo pick a couple rides to just have his way (well with-in my judgment) and go have some fun. He LOVES to go fast, he does a nice job of it too with much "tempering" on my part. Endurance rides are Tempo's greatest joy in life, although so often times he is SET on going any way BUT the way the other horses went. I for the life of me will never understand him, and I will NEVER, EVER trust him to get me "home" if we get lost! He would get me home, just might not be for several days, after he has seen all he wanted to see. Very frustrating guy, the thought of riding in the dark alone on a ride is terrifying, there HAS to be more then enough glow sticks, we might never get back otherwise! Tempo has a very odd sense of humor.
Tempo has given to me what fate took away when Habod got hurt. I've waited a lifetime to get a horse to this pinnacle. Tempo and I ARE a team, we are joined at the hip-well unless he goes on a "walk-about". I like having him in my life, as does he like having me in his. I pray that we continue this partnership for many more years.
Skyla and Tempo
---
Comments
| | |
| --- | --- |
| What a great story, sounds like you really enjoy each other. | |
Post a Comment
Links to this post:
<< Home