---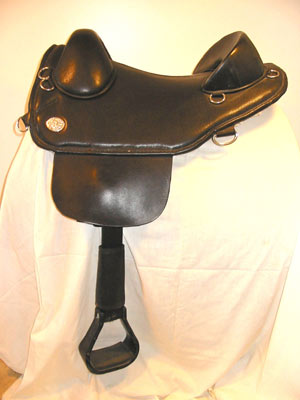 The Endurance Sports Saddle is a "treeless" saddle that gives with the movement of the horse's shoulders and back, allowing freedom of motion. (Description of the Sports Saddle)
Never before has there been a saddle that gives the rider as much comfort, as much "feel" and contact with the horse, and at the same time as much security and balance as the Sports Saddle.
Because the Sports Saddle places the rider close to the horse - much like bareback riding - the rider moves with the horse's motion without restrictions, staying balanced with ease. And, because there is no rigid tree, the Sports Saddle won't bind or restrict a horse's movements. (Saddle Tree Comparison Information)
After trying the saddle for 10 days, you may return it for a refund (less shipping & handling and $125 re-stocking fee).
$925 (plus $30 shipping in U.S.) (Ordering Information)
Shown with a custom Woolback SaddleŽ pad.
Standard Equipment:
Western rigging
Synthetic fleece underside
Eight stainless steel D-rings
Stainless steel crupper ring
Stainless steel water bottle dee-rings
Stainless steel "rear cinch" rings for attaching gear
Endurance pommel
Two-inch cantle
Nylon stirrup straps with removable stirrup cover
Three-inch plastic stirrups with padded foot area
Western felt cinch
The saddle weighs approximately 11 to 15 pounds, depending on seat size.
Available in chocolate brown or black leather.



Deluxe Endurance Saddle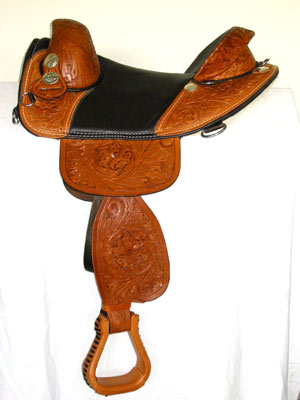 The Fancy Endurance has it all! It comes standard with a show pommel, cheyenne roll, conchos & carriers, horn and hand-laced leather-covered stirrups. Medium oil finish only. Available in black or chocolate brown seat. Shown in floral tooling with floral-tooled fenders. Custom order no horn. $1505.


---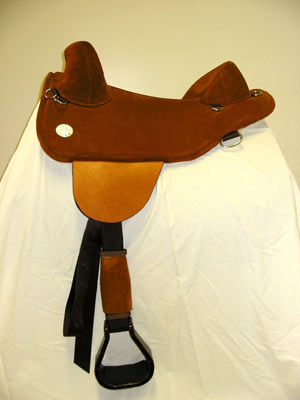 Schooling and Training
Custom Order Only
Need only the bare essentials but want a Sports Saddle? Consider the Schooling & Training model at $950.
This saddle comes in suede leather, helping you stick to the seat. It comes with two dee rings on the front and two on the back, nylon stirrups and woolfelt cinch. Stirrups are positioned in a more forward position than the endurance model.
Available in medium brown or dark chocolate suede leather.
Other suede colors are available for $25: forest green, royal blue, sand, light gray, gray, red, purple, turquoise and maroon.
Seat sizes 13" to 15" and larger sizes available for $25 extra.

---
Basic Trail Saddle.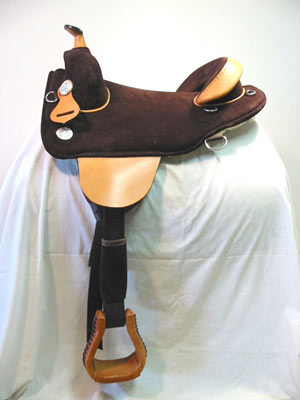 Check it out trail riders! Make those long hours out on the trail comfortable for you and your horse with the Basic Trail Rider. Standard in toast, black or chocolate brown suede leather, with contrast trim (piping around the base of pommel and cantle), hand-laced leather stirrups and a #18 leather horn or no horn.
Round skirt: $945
Square skirt: $985
Add plain fenders $60, braided horn $20.

---
Deluxe Trail Saddle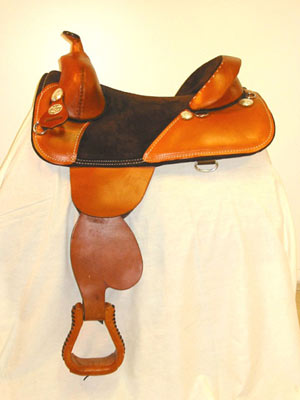 Go for it all! This Smoothout Russet Leather Trail Rider comes standard with a 4" trail cantle and a cheyenne roll, #18 leather horn, hand-laced leather-covered stirrups, and conchos & carriers. Suede seat available in chocolate brown or toast, black; smooth leather in medium oil. $1,185. Add the plain-leather fenders for $60.
Available in basketweave or diamond tooling $1285 - floral tooling $1485.
Rear Cinch: plain leather $75, dyed plain leather $85, tooled leather $90, floral tooled leather $100.
Hoof Pick Holder: plain leather $20, tooled leather $25, floral tooled leather $35.