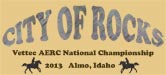 Main Page
Entry Information
Qualification
Schedule of Events
Venue & Camp
Trails
Volunteer
Sponsor
Contact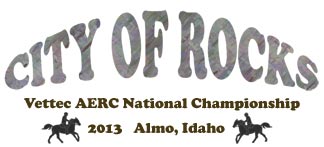 Venue


City of Rocks National Reserve

Basecamp is on a privately owned field one mile outside of the town of Almo, Idaho. Elevation at basecamp is 5500ft. Ride management will provide water tanks throughout camp for horse water, and potable water is available from a central hydrant. There are no electric hookups available. We will provide chemical toilets in camp.

We will not have shower facilities in camp, but there are two options for showers: Smoky Mountain Campground is 3/4 mile from basecamp and has toilets, hot showers and WiFi. You must purchase a day pass to use the campground.

Durfee Hotsprings is 1 1/2 miles from camp and has outdoor pools (cool to hot) and an outdoor shower. $6 per day, discount passes available. (this place is great!)

Groceries and fuel (gas, diesel) are available in Almo, and there is a large fuel station outside of Albion on Hwy 77 which is easy for larger rigs to get in and out of.

There is lodging at the Almo Creek Inn. Limited number of rooms and cabins, reserve early.
Directions:
From Boise take I-84 to exit 216 (Declo); go south on Idaho 77 to Conner Creek Junction, then southwest on the Elba-Almo Road. Drive through Almo and past the City of Rocks Visitor Center. Basecamp will be on the right about 1 mile south of Almo. From Pocatello and Idaho Falls, take I-86 and I-84 to exit 216 and proceed as above. From Salt Lake City: take I-84 to exit 216 (Declo); go south on Idaho 77 to Conner Creek Junction, then southwest on the Elba-Almo Road. (etc) alternatively: From Salt Lake City take I-84 to exit 245 (Sublett/Malta) then head west toward Malta. Turn left (south) onto highway 81 for .2 miles to Highway 77, then turn right (west). At Connor Creek Junction, follow directions above toward Almo.
---
Weather:
Basecamp is at 5500 ft and weather in late September should be perfect for riding. The trails will range from 4500 to 8500 feet in elevation. The lower elevation trails traverse grass, sagebrush, juniper and pinion pine ecosystems. At the higher elevations you will ride through golden aspen groves and fir forests. Average high temps are in the 70's, average low temps in the 40's.

Wunderground forecast for Almo, Idaho
Trails and footing
Footing in this area is good, with a few rocky sections, but it is NOT a rocky ride! There will be some climbing into the aspen forests. There are beautiful single track trails through the City of Rocks National Reserve, and 2-track roads and cow trails through BLM land. USFS trails will be a combination of dirt road and 2-track, some single track trail through the aspen groves.
Almo, Idaho
Almo is rich in pioneer history - many log cabins and original homesteads remain. You will ride on parts of the original pioneer trails and see names and dates and verses carved into the stone faces or painted on with axel grease from the wagons.

History, pioneers, wagon trains, agriculture
Shops and Amenities
There is much to do in Almo! A great steakhouse, pizza, breakfast, an amazing selection of specialty brews. This is rock-climbing country, second only to Yosemite in the USA, and the town provides well for the yearly influx of climbers and tourists. Outpost Steakhouse (GOOD!)
Almo Creek Inn
Tracy Creek General Store
Durfee Hot Springs - several pools and outdoor showers
Showers, toilets and Internet at Smokey Mountain Campground (small fee) adjacent to basecamp