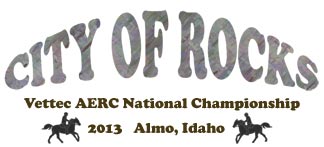 News and Updates
---
2013 Vettec AERC National Championship 50-mile Trail is a Sensation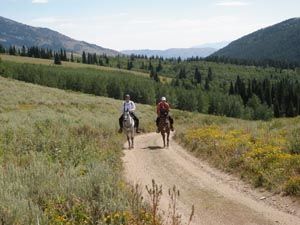 August 28 2013

The 50-mile course, and the first 50 miles of the 100-mile course, for the 2013 Vettec AERC National Championships that will be held on September 20 and 22 near Almo, Idaho, is a hit.

Day 5 of the City of Rocks Pioneer Trails Endurance ride held on August 6-10 was a test ride for the National Championships.

"It's absolutely beautiful!" exclaimed Heidi Skerratt, riding Gold N Beaudayshus at 8500', the highest elevation on the trail. "I could ride this trail every day and not get tired of it!"

Many riders echoed that sentiment at the splendid scenery that followed them with every foot in elevation gain throughout the ride.

It will be a challenging 50 mile trail: horses begin at 5318' at base camp outside the spectacularly scenic, geologic, and historic City of Rocks National Reserve, and climb to 8513', with a total elevation gain/loss of approximately 6500'. Trails will take riders over the historic California Trail, the Salt Lake Cutoff Trail, and Boise-Kelton Stage Routes, through the National Reserve and up into the Albion mountains in the Sawtooth National Forest. 38 of 42 riders completed this 50-mile trail, with the winning time 5:25.

For a preview of the trails on the 50-mile ride, and the first half of the 100-mile ride, see the new video:

or link:
http://www.youtube.com/watch?v=c_mPouLeZb0
---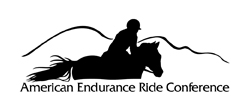 The Vettec AERC National Championship is the 2013 premier event for the American Endurance Ride Conference

AERC recognizes that the junior riders are the future of the sport, and will be providing a rebate to all starting Junior riders. $500 will be shared equally among the juniors, and a rebate check will be issued to them afer the event.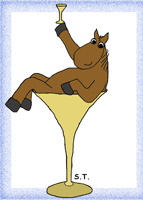 Here's to the Juniors!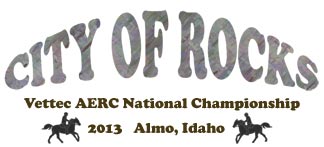 ---
Hammer Nutrition Gold Sponsor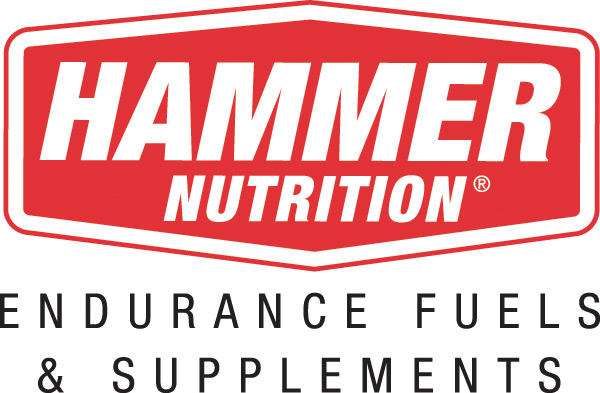 Hammer Nutrition is proud to be the nutritional sponsor for the riders in the American Endurance National Championships! Hammer Nutrition has everything you need when it comes to the highest quality fuels and supplements, as well as unmatched customer service and technical support. You'll save time and money, and you'll feel secure knowing that one company has all your fuel, supplement, and technical support needs covered, which means you can ride with complete confidence!
---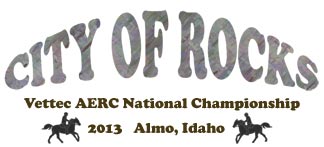 1st Place Awards and Junior Completion Awards Created by Diane Dann and sponsored by Belesemo Arabians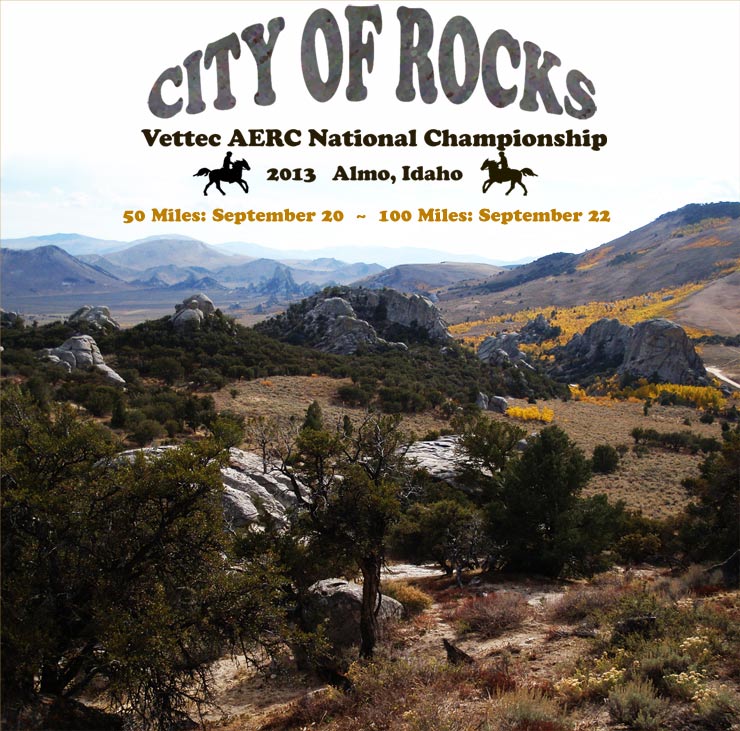 7/29/2013 Northwest endurance rider Diane Dann has created the awards, sponsored by Belesemo Arabians, for the winners of the 50 and 100-mile AERC National Championships, and for the Junior completions in each distance. Each will receive a handmade mini-quilt of a horse.

"Quilting is something I had always wanted to do but didn't have the time," Diane said, "so I did lots of crafts, needlepoint, knitting and crochet for many years. Then in 2011 I got the bug, big time, and finally had some time and jumped in with both feet. Since then I have made 8 quilts ranging from king size to lap top, 4 table cloths of varying sizes, 2 wall hangings, 7 rag quilts, 3 table runners and a 3 different sets of placemats totaling 16 and have started to applique.

"I had been talking to Steph about making completion awards for any of her rides, as I just love to have projects to make, and she was the one who mentioned the National Championship."

Belesemo Arabians has a breeding program centers primarily on the tried and true Crabbet/Davenport bloodlines of Antez, Abu Farwa and Alla Amarward with a touch of Ferseyn, which are proven in the endurance, sport horse and competitive trail fields.
---
Vettec Inc is the new Title Sponsor of the 2013 AERC National Championship Event
The Vettec AERC National Endurance Championship will be held during September in Almo, Idaho at the City of Rocks National Reserve. The National Park Service, State Park Service, US Forest Service, Bureau of Land Management, and private land owners are all welcoming this elite equestrian event. The championship course will follow some of the original pioneer emigrant trails, and the entire area is rich in history. Event organizers Steph Teeter and Regina Rose are excited about sharing this beautiful location with riders from all over the country. The town of Almo is small but has many amenities, and due to the unique granite rock formations is an International destination for serious rock climbers. One can find just about everything there, including hot spring pools for soaking. Our thanks again to Vettec Inc for supporting the AERC and it's premier National Endurance Championship Event. Vettec Inc. - the leader in quality hoof care products, has been manufacturing and distributing the highest level of horse hoof care products worldwide for over 15 years. Vettec's extensive line of hoof related materials allow your hoof care professional to complete hoof repairs and glue on shoes with Adhere, urethane adhesive, as well as create instant horse shoes and foal extensions with Super Fast, equi-thane adhesive. Read more about Vettec at http://www.vettec.com
---
Lost Juniper Ranch is Bronze Sponsor of AERC National Championship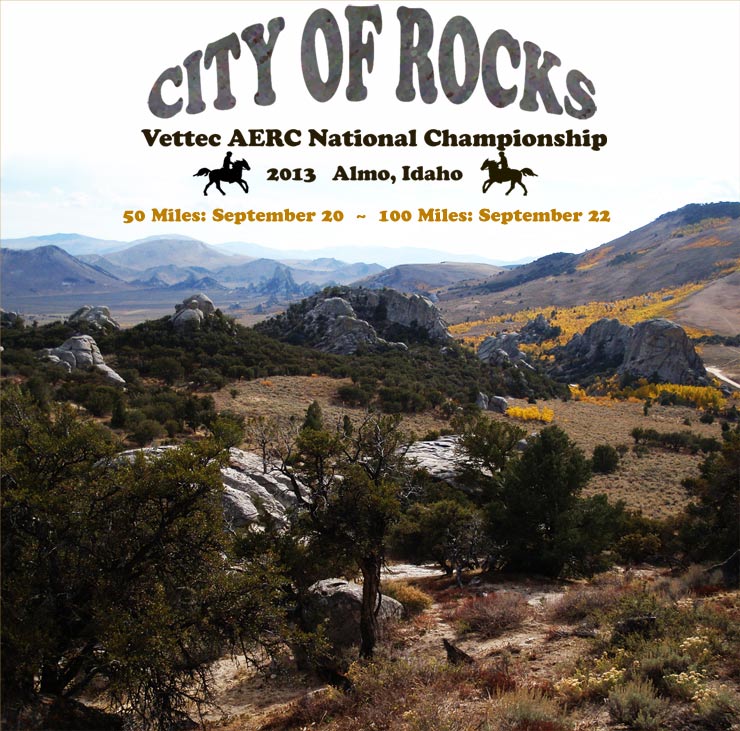 AERCNC 2013
Rick and Carol Brand of Lost Juniper Ranch are the latest Bronze Sponsors of the 2013 Adequan AERC National Championships in Almo, Idaho on September 20-22. The Brands will be taking on the tremendous responsibility of all the water sets for horses at Ridecamp and along the trails, which will run in and around the City of Rocks National Reserve.

Lost Juniper Ranch is located in Oreana, Idaho, and is a dealer for Specialized and Timberline saddles and occasional endurance prospects.

For more information on the AERC National Championships, see
http://www.endurance.net/AERCNC2013/index.html
---
Arabian Horse World to Cover AERC National Championships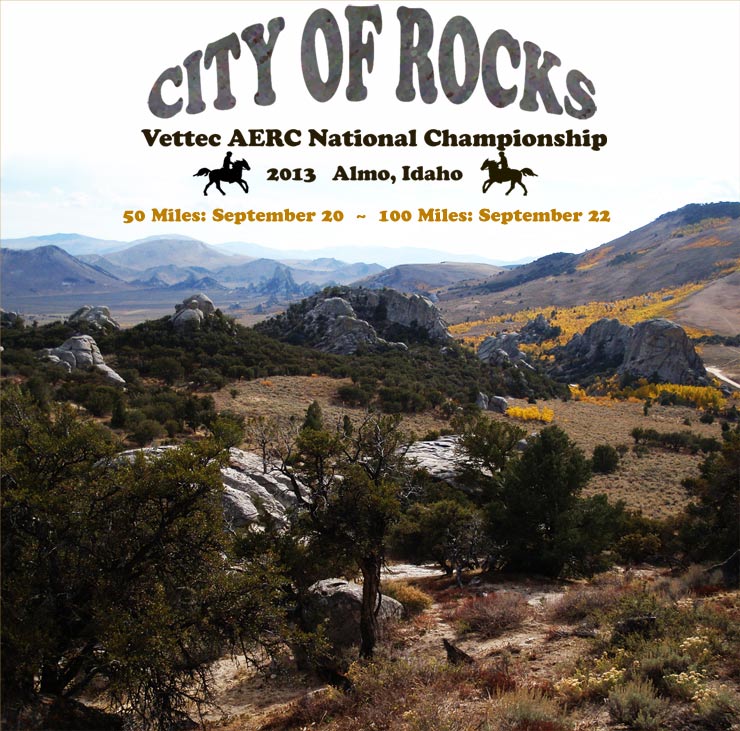 May 13 2013
Equine journalist and photographer Genie Stewart-Spears of Illinois will be covering the 2013 Adequan AERC National Championships in Almo, Idaho for the magazine Arabian Horse World.
The 50 mile ride will take place on September 20th, and the 100 mile ride will take place on September 22. Trails will run in and around the City of Rocks National Reserve.
Based out of Cambria, California, Arabian Horse World is the world's leading Arabian horse publication, offering award-winning coverage of the Arabian breed since 1959.
---
Hoof Clinic to be Held by Christoph Schork at 2013 Adequan® AERC National Championships
April 14 2013

A Hoof Clinic will be held by Christoph Schork of Global Endurance Training Center at the Adequan AERC National Endurance Championship at City of Rocks.

Saturday September 21

9:00 - 12:00 AM

Christoph will demonstrate various hoof trims for barefoot riding, shoeing, booting, gluing. Various hoof protection methods will be on display and explained, followed by a demonstration of an Easycare hoof boot gluing.

Questions will be answered and participants can bring their own horses for a free hoof and trim evaluation.

The Clinic is sponsored by Global Endurance Center, EasyCare, Equiflex and Vettec.

Vettec will sponsor refreshments during the clinic, and all sponsors have provided give away prizes for a drawing afterwards.
---
Vicki Gaebe is Photographer for 2013 Adequan® AERC National Championships
April 8 2013

Vicki Gaebe of ParkCityPhotography.com will be the official ride photographer for the 2013 Adequan® AERC National Championships to be held in Almo, Idaho on September 20-22.

Vicki describes her work: "Photography is a full-time passion. Whether it is photographing an equestrian event, enjoying the beauty of our National Parks, or on a hike and making 'eye contact' with a bull moose, I've always had a desire to capture it through the lens. Over the years I have created an extensive portfolio of dramatic shots of animals, flowers, nature and scenes throughout Park City and all over the West, even as far away as Africa, Spain and Malaysia. My photos have been used by tourism bureaus, real estate publications, magazines, online, as well as the Utah Film Commission."

Vicki will have photos of riders available for purchase after the event.
---
American Trail Gear is latest AERCNC Sponsor
April 2 2013

American Trail Gear (http://www.americantrailgear.com/) is the latest to join as a sponsor for the 2012 Adequan® AERC National Championships to be held in Almo, Idaho on September 20-22. As a Bronze Sponsor, American Trail Gear will provide High Vet Score awards for the 50 and 100 mile rides.

Entry fees and applications will be posted soon.

Rooms are filling fast at the Almo Creek Lodge - to reserve a room contact http://www.almocreek.com/lodging/
---
Running Bear is latest AERCNC Sponsor
March 24 2013

Teddy Lancaster of Running Bear Endurance and Trail Riding Essentials is the latest entity to join as a sponsor for the 2012 Adequan® AERC National Championships to be held in Almo, Idaho on September 20-22.

Teddy will supply 100 Rider Vet Cards for the event.

Susan Garlinghouse DVM and Art King DVM are the newest members of the Veterinary staff, along with Head Veterinarian Michael Foss DVM and Robert Washington DVM.

Check the website regularly for updates and news, trail videos, and google earth fly-overs.

http://www.endurance.net/AERCNC2013

Entry fees and applications will be posted soon.
---