Endurance In Japan
Part 1
Seiichi Hasumi is a prominent business man in Japan. He and his wife Harumi founded and built a successful publishing company. Their lives have been focused on the publishing company and other business and investment opportunities. But very recently their lives became a bit more complicated…One evening during the summer of 2002 Hasumi happened to tune in to a National Geographic television special on the Tevis Cup – the Western States Trail Ride, 100 miles in one day. He watched the horses and riders on the trail, watched Potato Richardson as he escorted the NG team along the trail, saw the beauty of the course, the excitement of the pre-dawn start, the buzz of activity at Robinson Flat and Forest Hill, and the cheering as the finishers rode their victory lap at the stadium in Auburn. At that moment 59 year old Seiichi Hasumi decided that he was going to do just that – he was going to ride the Tevis Cup. Never mind that he knew nothing about Endurance riding, never mind that had never even been on a horse… this is a man who built a successful company from the ground up and was accustomed to challenges – and this was just one more challenge. Hasumi's wife Harumi told us that she had been in the kitchen preparing dinner when she heard him yelling in excitement. I can picture the moment in my mind – the "you're going to do what??" moment. And I'm guessing that there was a brief moment of hesitation on Harumi's part as she tried to actually comprehend this new development… and then "well then, let's get started". Harumi and Seiichi are partners – the vision and determination and the intelligence, persistence and devotion to take on every challenge, and to succeed.

Kiyotaka Yaguchi is a soft spoken man born in Japan, but lives in Seattle working for the Hasumi's business in the USA. In addition to working for the company, Yaguchi and his Seattle colleague Gary Kussman assist the Hasumi's with logistical support for Seiichi's Endurance rides outside of Japan. Gary had to find somebody who could help Hasumi find an Endurance horse, help him learn how to ride, help him learn about Endurance, and help him get a Tevis buckle. There were a few candidates – Endurance riders who knew the Tevis trail, knew the sport, knew horses, and lived near the Tevis trail. Gary diligently researched every candidate, every possibility, every aspect of Hasumi's new goal, and settled on Ann and Hal Hall to be Hasumi's trainers, mentors and Tevis experts. The Hall's and Hasumi's remain close friends today.

Ann and Hal live near the Tevis trail and have been involved in Endurance riding for most of their lives. Hal has over 20 Tevis buckles, and was one of the few – the elite – riders who completed the 1976 Great American Horse Race – from East coast to West coast – a young man with a spirit for adventure and a great horse. Ann and Hal were also sponsors of one of Japan's rider at the 1998 World Endurance Championship in Dubai – providing a horse and crew for Japan's first representation at a World Endurance Championship. Two great riders, and two wonderful people.

I am forever fascinated by the circle of people in this sport that seem to constantly appear and reappear as friends, as influences, as important components of one's own experience. I love drawing imaginary lines between the Endurance people I know, and the people that I know that also know each other, and whose lives have affected each other, and distance – geography – seems to have little significance. Or maybe it has great significance, but sheer distance doesn't seem to be a hindrance. John and I also know Hal and Ann and we both have also benefited from their good will and experience in the sport. We both have Hal and Ann stories. In 1993 I found myself in the company of a very nice man from California, after a very dismal start to my first 100 mile ride. Sandy Bolinger's Blackfoot Valley 100 – in Ovando, Montana. I was signing up for the 50 mile ride, and noticed that there was also a 100 mile division… hmm, sounds interesting – do I need to do anything special to do a 100? "no, just ride a little farther". Ok – I tore up the first check and wrote another one and entered my first 100 without a clue (as usual). The first 38 miles were one big loop – much of it along Montana's Great Bear Wilderness, single track trail, technical, hazardous in places, beautiful and wet (it was raining). My little horse (first Endurance horse) was small but very powerful and very fast and also didn't have very good brakes. I was riding a narrow twisty section of trail, was blistered and exhausted and remember at one point coming up behind this nice man who was expertly navigating the challenging trail. I was trying very hard to keep my horse from running into the back of his horse. At one point I was so desperately frustrated I yelled at my horse "back off a**hole!!" I don't usually use such language, especially on the trail with other people, but this moment got the best of me. The fellow turned around and looked at me and I realized he thought I was yelling at him… "oh no, not you – the horse…" - but I'm not sure he heard me. Oh dear, and I finally found a wide spot in the trail and go around him. Back at camp my horse vetted in fine, but I was certain that I couldn't do this, couldn't ride another 62 miles. But of course after a short rest and some hard glares from my friends, I decided that I had to try. Tiaro and I went back out alone and oh what a different horse. About 10 miles out of camp he was quite certain that this was the wrong direction. It was raining, I was discouraged, Tiaro was discouraged, and I was wondering how I would ever finish this ride, and then along came the nice fellow. He must not have remembered me as the one who was swearing on the trail, or maybe he just understood, but he picked us up and we rode along with him for the remainder of the loop and back to camp. It was a whole new ride for me – good company, happy horse. Still raining, but what the heck – and we finished the ride together. The remainder of the day and late into that night I was entertained by story after story – the Tevis, the Great American Horse Race… as the night darkened and the moon came up Tiaro and I happily trotted along – his gray ears beacons in the moonlight on my first night riding experience, and Hal's stories passing the hours and inspiring me with tales of 'real' endurance riding. Several years later John and I were at another 100 mile ride, Heidi Smith's Sunriver 100 in Oregon. We had both decided to do the 100 mile ride – this would be John's first 100, I was now an 'experienced' 100 miler campaigning my great horse Khruschev, and I could help him through it. My great horse was pulled at the first vetcheck and John was on his own. As luck would have it by mid ride he had partnered up with a very nice, very experienced 100 mile rider – Ann Hall – and together they rode through the night – and finished. One always remembers one's first 100 miler, and for us Ann and Hal Hall helped make the experiences special, and successful.

So now Japan – and a wider circle of Endurance friends. And in 2003 barely a year after watching the National Geographic program, with coaching and guidance from Hal and Ann, after miles of hard knocks and broken ribs learning how to ride, learning how to ride an Endurance horse, learning how to ride for mile after mile after mile, Seiichi Hasumi attempted his first Tevis Cup and earned his first Tevis buckle. The dream had come true. But apparently once wasn't enough, it was just the start – Seiichi is on a roll.
---
Interesting Links
---
Arrivals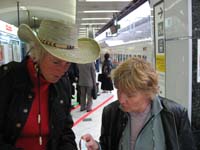 The Trail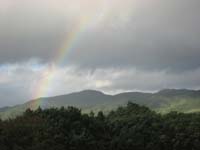 The People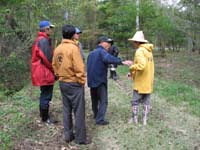 The Japan Arabian Horse Ranch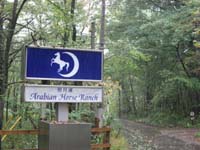 The Food