An Encounter at Death Valley 2008: 200 Miles Across The Wilderness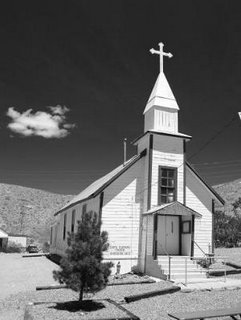 If you have never attempted the Death Valley Encounter ride in the four days leading up to New Year's, put it on your list for next year. The country is wild and remote; the trails and footing are exceptional with good variety of climbs, flatter sections and a light sprinkling of rock and if you luck out with the weather like this year, it just might be the best ride of your year.
The Trip: A Hop, Skip and a Jump
We had been talking about doing Death Valley all year. As the time grew closer and the weather report got better and better, the trip became real and the trailer got packed. Jack, Redford and Far got their baths and we were driving down the road away from our place by 7 AM on 12/27.
We had not been to Death Valley Encounter since 2004, when we had driven down from our home in British Columbia. The trip from Scottsdale would be an easy nine hours along the I-10 to San Bernardino and then north to Red Mountain. Traffic was light and diesel was a hair over two dollars a gallon.
We pulled into basecamp at about 3 PM and parked next to our fellow Paranoid Endurance Rider friends, Lucy & Patrick Trumbull and Leslie Spitzer. The weather was pleasant and sunny with no wind.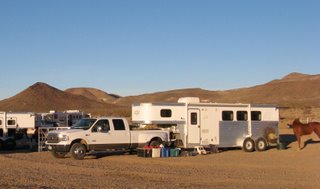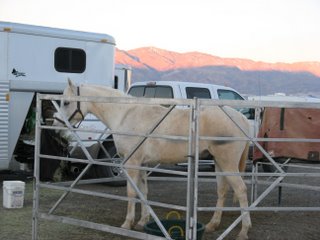 There was a cluster of horse trailers at one end of the lot and a cluster of toy haulers with motorcycles and quads at the other side. We vetted in within a couple of hours of arriving and blanketed the horses as the temperature began to head towards the overnight low of 28°. We packed our out check bags, ate dinner with our Paranoid friends and headed to bed well before 9 PM. The bonfire at the dirt bike side of the lot was just warming up – more toy haulers were arriving and a big bonfire was drawing a growing crowd.
The Night Before: "I'll Marry You Right Now If You Show Me Your T**s"
I woke up at 1:30 AM – I can always tell when the hay bags need refilling because the horses pull on the high ties and make the whole trailer reverberate impatiently. I slid out of bed and into a pair of jeans and a warm jacket and went to restock the hay. Outside, the bonfire party was just getting started: heavy metal music was blaring and the drinking was well under way. I could hear the elated screams and one young fellow, obviously feeling love for his fireside companion, slurred at the top of his voice: "I'll marry you right now if you show me your t**s". Oh my!
Day 1: A Long Way To Lunch and a Nice Climb Up the Mountain
The morning arrived quickly and Rusty and I saddled up Red and Jack for the 7 AM start time. We hand walked for a quarter mile or so, then got on and settled in fairly quickly to a warm-up trot down the wash. We climbed up and over a small hill before descending down into the hamlet of Johannesburg and then up and over into the beautifully picturesque town of Randsburg.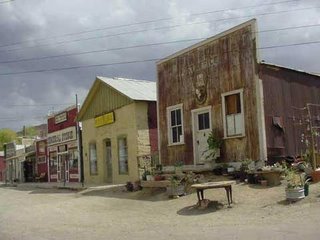 We trotted down a long valley, past a trot-out for The Duck, then began our ascent up and around the most stunning mountain range of jagged rocks and spectacular views that I have seen for a long time.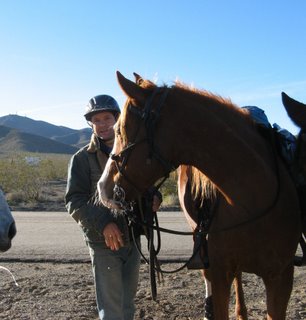 Some of us went a little way off trail, but we soon got back on track and the views of the valley and the little clumps of grass along the trail made the seven hour trip to lunch well worth it. We wound our way back down a wash through Wild West canyons to the trot-through spot that would be the lunch hold. The horses were hungry and happily ate their way through the hour.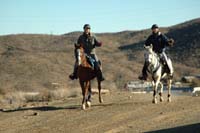 The trail back to camp could not have been more perfect: a gradual climb along an old railway track, then up a wash and around the hill back to basecamp just as darkness was approaching and the temperature was dropping. Our Paranoid friends finished at about the same time as we did, all with happy horses.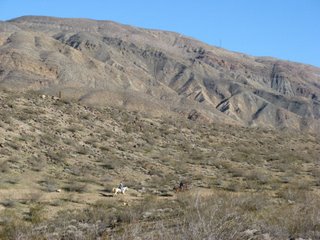 Day 2: Leslie's Boys Finally Do A Ride Together
I bought Far from Leslie Spitzer in June 2007 and he is undoubtedly the most athletic horse I have ever had the privilege to ride. A pasture injury a few weeks after he arrived at his new home in Arizona delayed our ride training somewhat, but we had a good year last year and he is much happier now that I am letting him move out a bit. I am always a little nervous when I get on him on the morning of a ride, but my fear is usually unwarranted.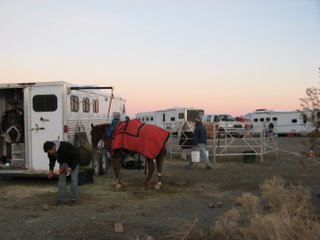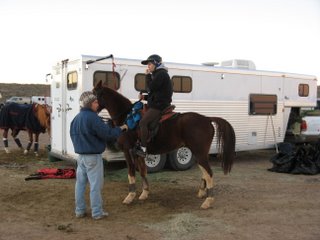 Day 2 would be no exception: Far and Eagle paced well together and Leslie and I enjoyed each other's company. It was the most fun I've had on a horse in a long time: Far was his usual tireless, eager self; the footing was excellent to perfect and we pulled into lunch at basecamp by 11 AM. Far trotted right to the vet and pulsed in at 32. Sweet!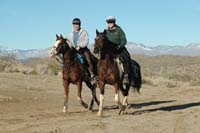 Patrick was still out on the trail doing an LD on his new and splendid horse when we left for the second loop. There would be some question about his location later in the day, but pft, as he is affectionately referred to, did just fine all day and was not rushing his young horse through his first LD. Talk about a match made in heaven!
The finish line for the 50 was eight miles up the road from the first basecamp and our second basecamp was another hour into the next valley at Ballarat. Rusty took the day off and drove Leslie's rig to the finish line with Lucy, then back to get our rig, which he drove to Ballarat. Leslie and I set out on our second loop after lunch and continued to have way too much fun as Far and Eagle trucked down the trail together.
I had a fall when Far spooked and tripped at a big hole about a mile from the finish line. Leslie gave me a "10" for a spectacular dismount, but confessed to wondering what she would do with my unconscious body when she saw me somersaulting through the air! We had a good laugh, then I got back on board and we crossed the finish line before 3 PM with two very happy horses.
We made the drive up and over the pass and got into our new basecamp just before dark. The last three miles to camp were rough and we were ready and deserving for our glass of wine by the time we parked and set up camp.
Day 3: The False Start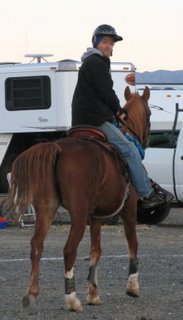 I was to ride Red on Day 3 with Leslie on Eagle. The day started fine enough with a steep climb up a rocky service road that would give us four miles of stunning views down into the valley. All the horses around us had hoof protection on and in hindsight, I should have done the same with Red. We meandered our way back down the hill, past basecamp and across the causeway up to a sand wash and then across the road to camp.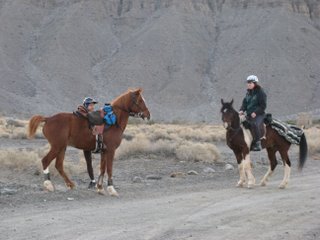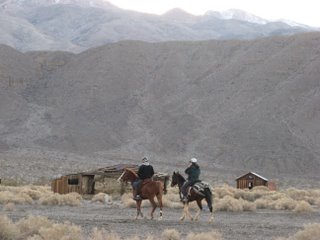 I was not happy with the way Red was moving – he was not yet lame, but I could hear him landing heavier on his front left and began to worry about his right front. I stopped and put Easyboots on the front, but it was no better with hoof protection. If we had been further into the ride, I would have nursed him through it, but we were probably at only ten miles and the thought of hurting a great horse was reason enough for me to turn around and send Leslie on. It also helped that I could see basecamp.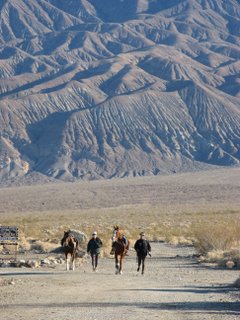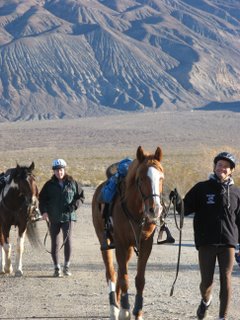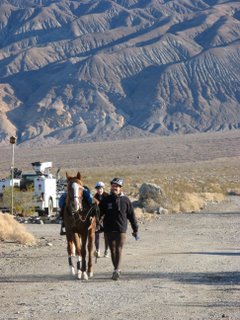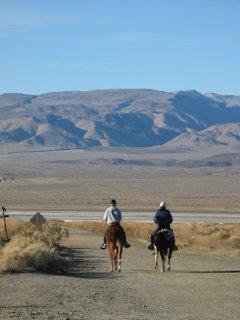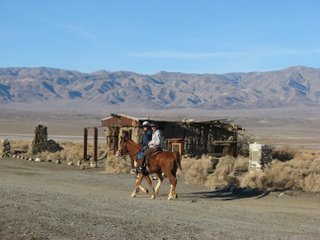 When I made it back to the trailer, we found an inch-long split on his left hind foot just below and parallel to his coronet band. It was sore to the touch and looked like the sudden dryness of the desert after two weeks of rain in Arizona was enough to make his hoof too dry and chapped and separate. It is always a drag to pull, but I was pleased to know the cause of the change in gait. I spent the rest of the day chilling – I bathed Far, read a little and watched the flurry of horses and riders finish their day at base camp.
Day 4: Don't Judge Another Until You Have Walked In Their Shoes
I rode Far on Day 4 and started with Leslie, knowing that we may not start together. Rusty was to ride his young horse Jack again – he had a couple of days off and seemed ready to go back out on the trail. Far had been tied to the trailer eating alfalfa and he was as high as a kite. He showed the beginning of a rear/buck when I got on him. The first 14 miles out of camp were along the flat lake bed heading back towards Trona and you could see other horses for miles.
Leslie needed to stop to adjust some tack and Far really needed to move out, so I went ahead and spent the next 14 miles fighting with my horse trying to hold him back without really succeeding. No matter how much I gave him, he still wanted more and the more we went, the more upset he got. I was really pleased when we hit the base of the mountain and started to climb what must have been 4,000 feet up and over. He was pleased to have some terrain that would challenge him and he motored all the way up, hardly noticing the change in elevation. He is quite a horse. Rusty was not far behind us – and hand walked the entire mountain to preserve his young horse's energy.
I was suddenly enjoying myself and reflecting on how little others can understand about what we do: there really is nothing like it and it is impossible to compare it to anything. Even as I was watching the riders finish on the previous day, I had no idea of what they had all been through out there on the trail with their horses. It is so easy for us to judge others – to project what they have experienced onto them and to make assumptions about them based on what we see in a very narrow moment of time in their presence. In reality, we have no idea whatsoever about what they have lived, where they have been and what they have felt. As I trucked up the hill with the power of a fit equine, I felt totally and completely free – completely immersed in the now. What a high.
We came back down the trail past deserted mines, the view of Valley Wells golf course growing ever bigger. I hand walked some of it because I was already sore from bracing against a pulling horse for the first couple of hours of the day. I trotted to the pulser and then found our rig – we had arranged to have it moved this time by one of the drivers: well worth the $30 investment in my opinion – particularly since Redford did not ride. This way, I was able to set him up during the lunch stop rather than having him alone all day.
I decided to wait for Rusty and Leslie, so my lunch hold was more than 90 minutes. Far ate and drank well, and it gave me a chance to visit with Brian and Darla who had just made the three-day drive down from British Columbia en route to spend a couple of months at our place with a couple of their horses.
We set off along the valley and up a long gradual climb to an epic waterfall. There was still a little snow up there, and the temperature was cold enough to make me wonder if I should have packed another jacket. We three had a great ride together and finished happy and a little sore well before dark. Leslie had ridden all four days on Eagle: what an impressive achievement. Rusty rode his young gelding two days out of four and he did well by eating and drinking his way along the trail and finished strong. Lucy and Patrick had enjoyed a successful ride together, and I enjoyed a long hot shower before eating our New Year's Eve feast of pot roast, chicken, pasta and salad at the club house.
We were in bed before 9:30 – a far cry from the Tequila soaked evening at Panamint Springs in 2004 when I was seen dancing with my own chair! We hit the road by 7 the next day and pulled into our driveway eight hours later. Steph and John had arrived the previous day and we all enjoyed a feast of chicken and salad with a few bottles of red wine before turning in for bed. What a start to 2009! Happy New Year one and all!
See you at the DVE next year?