Slow, Slow, Quick, Quick, Slow: Old Pueblo, March 3 & 4, 2007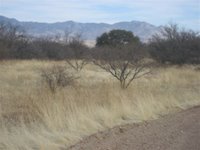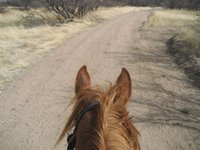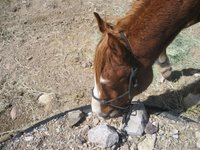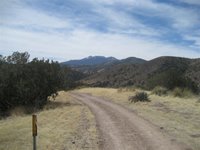 The opportunities to ride this year seem to coincide perfectly with an obligation to attend an all day event on the first Friday of each month. This adds sizeable challenges to the logistical side of getting horse, rig and rider to ridecamp.
When I was going to Warner Springs, the ride and the horse were of the stature and reputation that it made sense to drive through the night in a borrowed car. This weekend, it was to be my young horse's first experience at a ride at the beautiful Old Pueblo location, south and a little east of Tucson high in the mountains north of Sonoita, AZ. I seemed to find lots of reasons not to go, now that I had to get my own young horse there under my own steam late at night!
I hesitated about going to the ride all week. The horse is young, and I was only planning on the 25 – my first ever in 4,000 miles. I figured I could do the same distance at home for much less money and much less stress. But all those around me thought it would be a good experience for the little guy (the horse, not me) to go and ride.
I left downtown Phoenix at 4 PM, needing to drive the 42 miles to the northeastern tip of Scottsdale. I was still undecided about whether or not to hitch, load and drive. I called Clydea Hastie, who had left earlier in the day, to see how things were there. I thought perhaps she would sway me one way or the other. No answer on her cell. Then I called Barb Debi, who told me it was very windy. Mmmm. Doesn't sound like it would be worth driving though the darkness to do a windy 25 on a young horse.
Clydea called me back just as I was arriving home, some two hours after I left the city. I decided I would go as soon as she called. Rusty had packed the bale bag; bought a flat of drinking water; filled the water in the trailer and put a bunch of jeans and t-shirts in the trailer for the ride. Why wouldn't I go? We hitched the trailer, discovering that the main power switch in the trailer had been left in the "off" position. There was no power left in the batteries, so the drive down would have to suffice to recharge. John Teeter was skeptical that it would work. It turned out he was right.
I pulled into the dirt road near base camp high in the mountains above Sonoita at 10:15 PM. The temperature was a bone-chilling 22, and the panels were cold and hard to the touch. I unloaded Redford, whose eyes were a little buggy, and he settled in to his hay and water as if he knew exactly what to do. It was past midnight when I climbed into bed
The alarm went off at 6:00 AM. I had worn two pairs of riding tights; two pairs of socks; a pair of jeans; a t-shirt, a sweatshirt, a fur-lined jean jacket and a woolen ski hat. I had two comforters on the bed and three horse coolers. That was not quite enough to offset the low of 16 degrees. The 50-mile riders left at 7:00 and we waved goodbye. 8:00 came around and we let the other riders leave before heading out of camp. We walked for the first couple of miles along a blustery and winding trail that wound its way through scrubby, prickly brush. We passed the photographer and rode along a deep sandy wash and then onto a good two-track road where we could move out at a relaxed trot. It must have been eight miles before we saw another horse – the 50s had gone out from a water stop and done a keyhole loop before heading back along common trail. I was skeptical as to how Red would react to a bunch of horses running up behind him. I was using every minute of our six hours, so if there were other horses on the trail, they would almost certainly be passing us.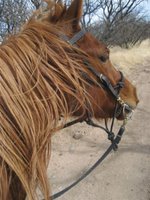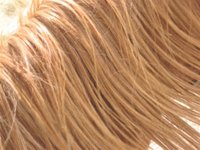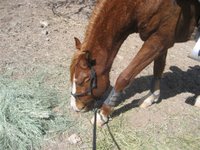 Red took it all in his stride and did not lose his mind. What a great horse! I think I am really going to like this horse's mind. At one point, we passed a lady who had taken a tumble and was standing there holding her horse by the reins. Without warning, her horse was loose and off to join the stream of horses that had passed him. I was concerned Red might try to run with him, but he stayed with me and it was a non-event. He drank on the trail, and when we got back to camp for our lunch hold at 16 miles, he calmly ate and drank for the full hour as the activity around camp went on around him. Good horse!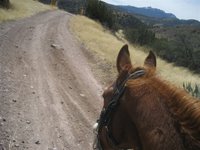 There was a nine-mile loop left – a winding, rolling trail with stunning views of snow-capped mountains. The road was hard and it was as if the rocks were embedded in concrete. We mostly walked; basking in the intermittent company of enjoyable characters like Annie George on a big, colorful paint; a couple of stray 50-milers who were on the wrong loop and a girl who cantered past us, bemoaning being lost. I was truly enjoying my own stress-free environment of a 25-mile ride with nothing to worry about but the six-hour cut-off. I was even assured of being back in camp by 2 PM at the latest. I could really get to like this stuff!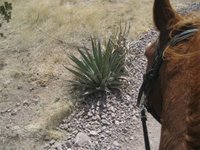 We trotted the last mile or so along a gently rolling sandy single track under the power lines and made it back to camp with 30 minutes left on the clock. Redford looked fresh, with a deep, clear eye and a pulse of 40. What a great horse. As the afternoon unfolded and I watched Redford's energy level stay high and his manner alert, I decided I just might take him back out on another slow 25 the following day.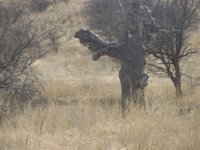 Morning came, along with an even more luxurious start time for the 25-milers of 9 AM. It had been another frigid night in my 8 layers, but the horse looked fresh: his legs were tight and cold and he was as alert as the previous morning. A quick trot-out revealed lots of impulsion in his gait and a review of the trail map confirmed I knew the trail well. It was an out-and-back to the beautiful McLeod Ranch. The trail is full of rolling grassy pastures (grassy in an Arizona wintry kind of a way), smattered with old oak trees knurled from the weather extremes here, cattle gates (which have helped teach more than one horse how to help the rider open and close them without dismounting); and then a couple of climbs into the mountains before a sweeping sandy wash to the ranch. It was a day not to be missed, and once I made sure the group of riders had left, Red and I set out for Day Two.
Within four miles or so, we had become fairly close to a group of four ladies who were obviously riding with the same strategy as I was. As they would open gates, I would arrive 30 seconds after them and close them. With each gate, they got more and more grateful, urging me to stay right where I was – as the official gate closer – and I was happy to oblige! At one point I even thought I heard them say that they were all free, but that might have been the wind taking their words and altering them.
We got to within two miles of the lunch stop with 15 minutes left before our halfway timing point. We all trotted in together along the sandy wash, relaxed and enjoying the effect of a 2.5-hour 12-mile ride! I told them I'd love to ride a 100 miler with them, if they were already giddy after 12.5 miles. They confessed that they were officially known as the Kenlyn Over the Hill riders. It turned out that Linda Fisher was leading the group of four – all of them on young horses.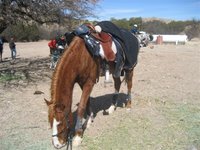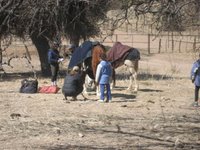 During the hour hold, we watched the wind blow the blankets off the horses' rumps as they chowed down on grass hay, then alfalfa, then beet pulp, then beet pulp and grain and then grain. Red was fishing around in the out check box, already having learned where the good stuff in life actually comes from. We chatted some with the tail-enders of the 50s, who all talked about almost being blown off their horses from the wind on top of the mountain loop they had just completed. I could see that look in their eyes of eagerness to be further along in miles than they were.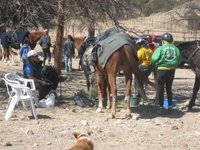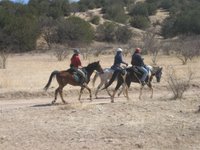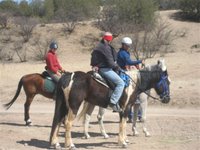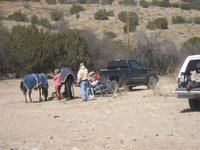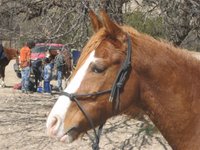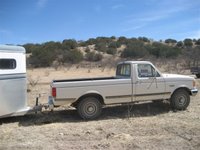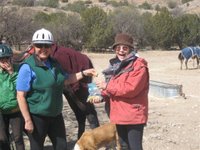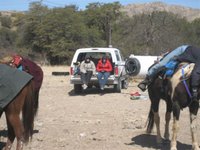 We humans ate home-made orange rum cake and I finished a bland roast beef sandwich I'd purchased at the gas station on Friday evening and polished off a Starbucks Double Shot Espresso & Cream. Yum!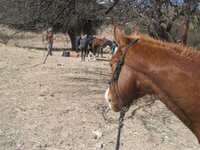 The hour passed quickly and the horses all looked very satisfied with their refills.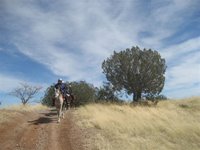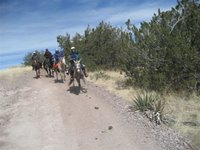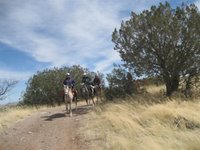 We set off again, and for while, Red and I led the pack of Over the Hillers. That ended when we got to the first gate – Linda was quick to point out that our skills really were in closing. She was right, so we waited for the giddy gang to pass and took our place at the back. We knew how much time we had, and I had made note of a couple of locations on the out trail and how long it had taken us to get there. I knew after a while that we were slightly ahead of our cut-off for timing, and since Red was beginning to show signs of being overly eager to keep up with the ladies, I decided to drop back from the group and enjoy the calmness of a horse on his own.
When we made it to the last five miles along a hard-packed dirt road, we began to walk and pretty soon I was hand-walking him, certain that I knew exactly where I was on the trail. There were 15 minutes left on the clock and I was convinced I would be walking into camp around the next turn. As we turned, I saw camp – but it was on the horizon! I figured it was probably a mile and half, and I began to run with him in hand. That lasted about 45 seconds. I realized more speed was required, so I hopped on board and we trotted in to welcoming arms of the pulse takers and the judicious inspection by Sid Zargas. We had finished with six whole minutes left on the clock, and Red had a pulse of 40.
We won a painted pony coffee mug and the nicest stone turtle I have ever seen, complete with little clam shells as the tortoise shell. It has taken prime position in the entrance way at the house – the latest in an unexpected, unplanned and growing collection of turtle awards contributed by our winter riding visitors.
And Marilyn McCoy has pulled off her fourth ride this season alone. Heartfelt thanks to you, Marilyn, and to your merry crew of eager helpers. For all those of you who can get to southern Arizona within a day's drive, make sure you put this one on your calendar: the views are not to be missed!
See you all at the Scottsdale McDowell Mountain endurance ride on April 7!
Kevin Myers