---
---
Japan: The Trails
Images by John and Steph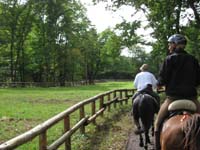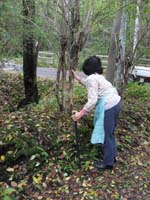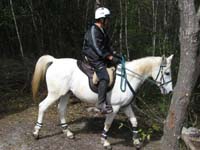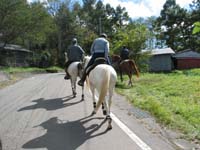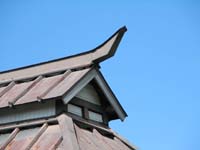 October 12, 2006.
We're finally home from our amazing trip to Japan. I wasn't exactly sure what to expect and wasn't sure just what the country already had for an Endurance program - but I was ultimately quite impressed with the state of Endurance in Japan.

The horse is an important part of Japan's history and culture, more than I realized. Important for transportation, for farming, for sport and also for battle, the people have been dependent upon the horse for centuries. The first recorded horse races date back to the 8th century, where horse racing was a Samurai sport providing opportunity to improve skills, contest each other and perform for the Imperial Court. There are also several ancient religious symbols of the horse, integrating the horse into the spiritual culture of Japan as well. Japan has many popular horse sports including a few faily obscure sports with National (local) appeal, modern horse racing (currently only Thoroughbred racing), and also the Internationally recognized FEI disciplines of Show Jumping, Dressage and Driving. Reining is becoming more popular, and Japan is beginning to import many Quarter Horses. And now, Endurance.

Japan has been organizing Endurance rides since 2000. All of the rides have been held on the island of Hokkaido where most of Japan's horse industry is located. There are a little over 100 people who participate in Endurance at some level. Japanese riders have participated in most of the World Endurance Championships since their first WEC in Dubai, UAE in 1998 where Japanese rider Daisuke Yasunaga rode the Australian horse Natsu to a 3rd place finish for an Individual Bronze Medal. Masafumi Tenaka, a member of the Japan Equestrian Federation has been introducing Japanese riders to the sport in other contries, and also in encouraging foreign riders to experience endurance riding in Japan. He has also written the first Endurance Riding book in Japanese and has had a significant role in advancing the sport in Japan. The rules for Endurance riding in Japan are basically the same as those of AERC (and FEI). The longest distance offered to date is 120km at the All Japan Championship (their National Championship). But while the sport has been growing slowly and surely, it is about to make a huge leap thanks to the efforts of one of Japan's very passionate riders.
Here's the story of our trip:
---
Part 1
Seiichi Hasumi is a prominent business man in Japan. He and his wife Harumi founded and developed a successful publishing company. Their lives have been focused on the publishing company and other business and investment opportunities. But very recently their lives became a bit more complicated…One evening during the summer of 2002 Hasumi happened to tune in to a National Geographic television special on the Tevis Cup – the Western States Trail Ride, 100 miles in one day.
more....
---
---
Part 2
Our own involvement with Seiichi Hasumi and his new passion began in 2004. John and I organized two FEI 100's that year, trying to offer opportunity for riders and horses to qualify for the next World Championship in Dubai, January 2005. That summer I received a phone call from a very nice and polite Japanese man – Yaguchi – asking about the ride, about Oreana, about Idaho, etc etc. Very very thorough, many questions. Hotels, transporation, trail, facilities, so many questions. In the throes of organizing the ride, I didn't get a chance to talk much with Hasumi's group, but they came, they rode and he finished (top ten and high vet score) on his new horse Fayette de Cameo and he was qualified for Dubai.
more....
---
---
Part 3
Everything was arranged for us. Yaguchi emailed us a full itinerary – each day and night was scheduled – from airport pickup on October 5 to delivery back at Narita airport on October 11. I had been so busy in the weeks before our trip that I only had time for a quick glance at the itinerary, but had full faith in Yaguchi. This was going to be a busy week, but how nice not to have to think about any of the logistics! After a week of managing our 5-day ride (and John had to leave suddenly on a business trip the first day of the ride, so it was double duty for me) I was so exhausted from managing all of the details of our ride that the idea of a 'think free' week in Japan was pure heaven.
more....
---
---
Part 4
After a good sleep and leisurely breakfast, Yaguchi rounded us up at the hotel and we took a taxi to the train station. It was raining again so we opted for a taxi rather than the short walk with our luggage. Umbrellas are the miracle of Japan. At the first drop of rain the streets are transformed into a kaleidoscope of color as umbrella-covered pedestrians march from place to place in their daily lives in the city.
more....
---
---
Part 5
We enjoyed a wonderful dinner with our hosts – plenty of good food and spirits, and between the Hasumis, Yaguchi, Dinah, John and I there was also plenty of good conversation – about horses and rides and Japan and Idaho and Tevis and Dubai and FEI. And after a good night's sleep we were up early for breakfast and then off to the Arabian Horse Ranch to start previewing the trails for the CEI*** ride.
more....
---
---
Part 6
Japan's Royal Lineage began with Jimmu, who was Japan's first Emperor (660 to 585 BC), and who was (according to Japanese Mythology) a descendant of the Sun Goddess Amaterasu. The reigning Emperor, Akahito is the 125th Emperor. Princess Kiko just gave birth to a baby boy and the infant is now third in line to the Japanese throne after Crown Prince Naruhito and Princess Kiko's husband, Prince Akishino.
more (and final!) ....
---
---
Arrivals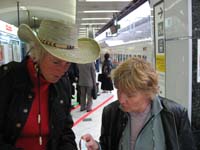 The Trail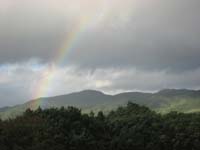 The People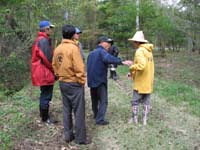 The Japan Arabian Horse Ranch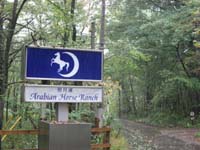 The Food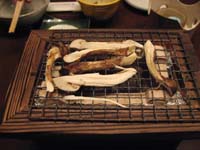 Tokyo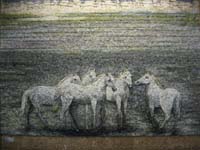 Interesting Links