Southwest Idaho Trail and Distance Riders
FAQ's*
What do we do?
The main focus of SWIT&DR is horsemanship and trail riding. We have one-day trail rides from 10 to 100 miles throughout SW Idaho as well as some multi-day rides. We have a nice continuum from short trail rides to 25-mile, 50-mile, and eventually to 75 and 100-mile rides so that horses and riders can work up to the longer distances. The 25-mile distance is becoming increasingly popular.
What is our Philosophy?
"To finish is to win" is the motto of the American Endurance Riding Conference who sanctions most of our rides. Some people ride the rides for speed, some for the companionship and community, and some ride for the trails. It seems as if everyone has a good time.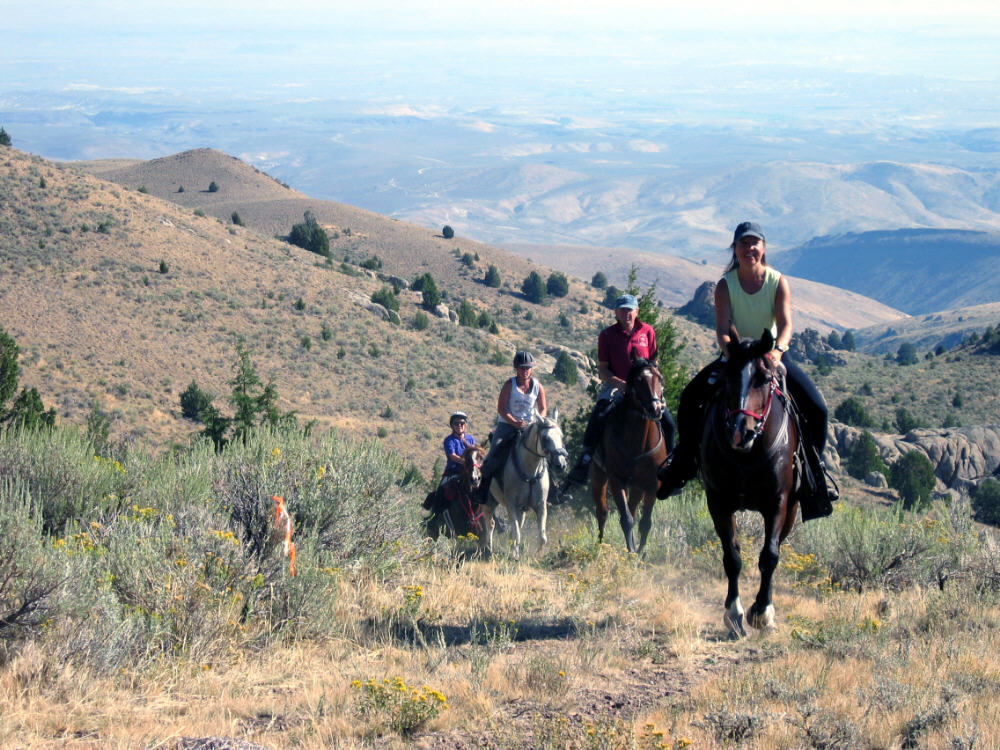 Who is this club for?
Our rides are open to all riders and all equines. We've had all ages of people and all types of horses and mules. It is true that Arabian horses seem to have the stamina for endurance, but other breeds can do very well too. Some time ago we had a very famous horse "Mustang Lady", a BLM Mustang, who did very well locally as well as did very well in some national rides too. Some local horses have covered over 5,000 sanctioned endurance trail miles and some local riders have over 10,000 miles. Many people come to distance riding from other equine disciplines such as the show ring or trail class. I have a distance running background myself. At one of the long runs, I saw an endurance rider out training on the trails and I thought, "If I ever get the chance I want to try that." I think that the one thing that all the endurance riders have in common is that they are tough.
What gear do I need?
As far as equipment, the horse is the most important, after the horse any good saddle will work. We see all kinds of equipment on all kinds of horses in our rides. There are stories of people completing some of the 50-mile rides bareback, which certainly defines the minimum amount of equipment necessary. The most important requirement is to care for your horse and to be sure that the horse's welfare comes first.
How would someone get involved?
Later this summer we will be hosting a distance-riding clinic where we'll introduce people and horses to the concepts of distance riding including the veterinary checks along the trail. We have monthly meetings at Fiesta Guadalajara in Meridian usually on the second Wednesday of the month at 7:00 in the evening and the meetings are open and free.
Do you have any special events?
All of our rides are open to the public and we usually have a shorter trail ride associated with the ride. In addition, this year we plan to bring back Eagle by Moonlight on July 31st. Eagle by Moonlight is held on a moonlit summer evening in the Eagle Foothills and it has been a very popular trail ride in the past. We've listened to past riders and their comments and we should have a very good Eagle by Moonlight ride this year. Another great ride for people to consider is the High Valley Ride over Memorial Day. The High Valley Ride has a very nice camp and it is a great getaway for the Memorial Day weekend. Some people may remember the Mountain Bike – Run – Ride triathlons we hosted in the past. We are thinking about bringing those back again too.
*based on an Idaho Statesman Interview with club President, Tom Noll, April 2004.