AERC Regional Award Winners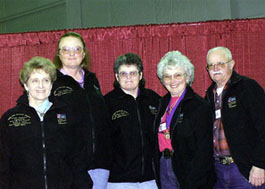 Congratulations
to the five
SWIT & DR members
who won
AERC Northwest regional awards in 1998!
From left to right:
Karen Steenhof, 2nd Lightweight, 8th overall, Reserve Champion, Rider Mileage
Pam Haynes, 2nd Heavyweight
Regina Rose, 6th Middleweight
Pat Perry, 1st Middleweight
Don Perry, 2nd Middleweight
All 5 received their black fleece awards jackets at the AERC convention in Reno.
Don and Pat Perry were the 10th Place Husband and Wife Team in the Nation!
Photo by Lynne Glazer.
CALENDAR | HOW TO JOIN | OFFICERS | HOME