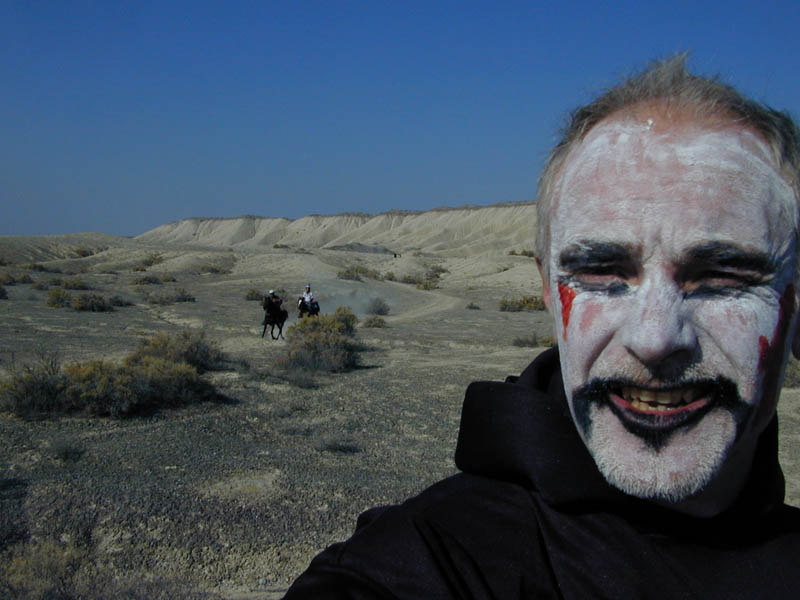 ---
2006 Photo Gallery
September 25,26,27,28,29
5 days, 260 miles.
Saturday, September 30
The annual Costume Contest!
---
Day 1, Tuesday. Castle Creek. 50 miles. Moderate difficulty, rocky technical section (4 miles) in the morning and afternoon. Otherwise, decent footing, some short rocky stretches, ranch roads, single track through canyon area. One out vet check half-way. Ride through Browns Creek Canyon, above Castle Creek Canyon, and through a short section of the canyon above the TX Ranch (Collettes). Very scenic ride, fairly rocky over-all.
---
Day 2, Wednesday New Trail! In 2007 we will take riders on a different Day 2 trail from years past - stay tuned!
---
Day 3, Thursday, Wild Horse Butte. 50 miles, 30 miles. Easy trail. Good footing. Some sandy stretches, minimal rock, some single track through badlands, lots of dirt road (Oregon Trail) with good footing, but some dusty sections (best riding is above the dusty areas, beside the road). 50's ride single track along the Snake River, around Wild Horse Butte. Two places to water in Snake River, these are flagged. Two out vet checks, both in same location.
---
Day 4, Friday, Sinker Creek Canyon, 50 miles, 30 miles. Moderate difficulty, the rockiest of the 5 days. VERY rocky through canyon, 35 miles. Cows/calves and low branches in canyon – no trotting through here! But take your binoculars and camera – raptor nests in canyon walls, great rock formations, pretty trail! 50 milers cross Sinker Creek again at Joyce Ranch (Nettletons) – please walk through ranch area. One vetcheck along Sinker Ck. Limited access, 4wd rigs only, no trailers (you can park trailers and bigger rigs 1 mile above vet check). Watch for cows on highway and along trail headed home.
---
Day 5, Saturday, Halloween. 50 miles, 30 miles. 30 mile loop with one vet check. Ride along the Oregon trail, good footing, easy trail. 50's do another 20-mile loop out of camp through the badlands and along the Rim trail. Halloween costume contest! Ride in costume, judging all day.
---
---
2006 Owyhee Cayonlands
Images by John Teeter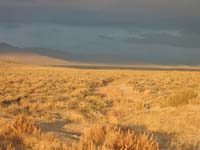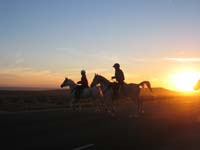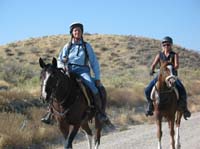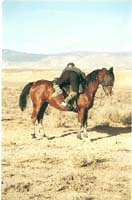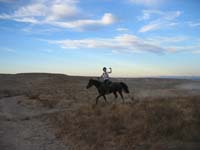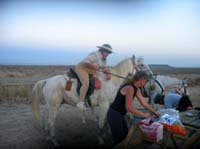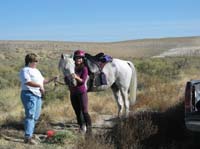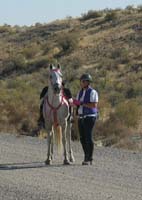 ---
Requires Google Earth!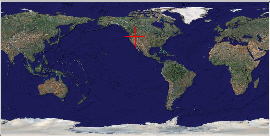 ---
Download Google Earth
---