Official 2006 National Championship Website

---
100 Mile Championship
Official Starting List
---
---
---
50Mile Trail

 0Mi - Start
 9Mi - Pulse&Go
23Mi - 45 min
39Mi - 30 min
49Mi - 20 min

---
100 Mile Trail

 0Mi - Start
23Mi - 45 min
46Mi - 45 min
64Mi - 30 min
77Mi - 30 min
91Mi - 20 min

---
50Mile Map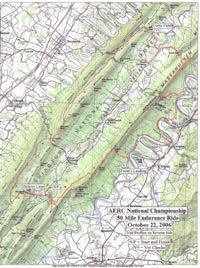 50Mile Elevations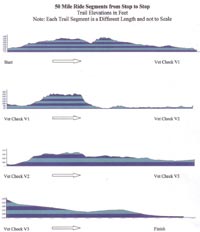 100 Mile Champions

 Jr - Joni Buttram          Cash Bonus
FWT - Sandra E. Conner      Elegant Pride
LWT - John Crandell III     Heraldic (BC)
MWT - Jeremy Olson          Berjo Smokey (High Vet)
HWT - Skip Kemerer          Ice Joy

---
50 Mile Champions

 JR - Josie Whelan          Southern Rock
FWT - Ruth Ann Everett      Pretty Boy
LWT - Roxi Rivkind          FCF Kenya
MWT - Lori Shifflett        Dazed and Amazed
HWT - Michael Bailey        K-Zar Emmanuel (BC/High Vet)

---
---
Correspondence
Oct 19, 9pm EST. "There's a certain sense of giddy seriousness now. Stagg has gotten cleaned up and carrying notebooks of 'stuff'. He said he'd be calm for the BoD Meeting after riding to 100 the day/night before." more...
---
Oct 19, Tom Sites:. "Folks are staring to come into Base Camp and it seems to be a friendly and seasoned group. more...
---
---
Please send photos and correspondence to Steph for inclusion on this website.
---
---