Endurance.Net is in New Zealand! Paul Jeffrey (Casa Enduro Endurance Stable) and the Organizing Committee of the Kelt Capital Horse of the Year Show 2007 have invited us to be part of this event. The Horse of the Year Show (HOY) is a well established International multi-discipline Equestrian event and this year will showcase an FEI CEI** 100km Endurance event. Casa Enduro Endurance Stable is providing horses for the World Riders Team (Belgium, Spain (2) and New Zealand), New Zealand is fielding a team of 4, and South Africa will have 4 team riders. The team competition adds an interesting dimension to Endurance events and a new level of strategy and pacing. The combined times of the top three finishing team members comprises the team time (using the FEI team competition rules used in Championship events).
The Team Competition
Three teams competed in the 2007 HOY. New Zealand, South Africa, and World Riders (Belgium, Spain, New Zealand).
The World Riders Team was organized by Paul Jeffrey, of Casa Endurance Endurance Stable. He brought riders and crew from Belgium and Spain to ride horses from his stable. POLAR provided real-time tracking of heart rate and altitude during the event. Graphs and data can be seen.
The South African Team was mounted on local (New Zealand) horses, organized by chef d'equipe Leon Liversage, and New Zealand chef d'equipe David Marshall organized 4 New Zealand riders to make up the New Zealand Team.
Trip to South Africa:
The HOY organizers awarded special prizes to competitors this year. In addition to completion and team awards, 4 of the riders were awarded a trip to South Africa to compete over there. First place finisher, Best Condition award winner, New Zealand team ember, and a random drawing from the field of competitors received the free trips.

|| More on HOY Endurance || Results ||
| | |
| --- | --- |
| | |
Results
Full Data Official Results CEI**
Full Data Official Results Junior
Place
New Zealand Team
First Place
World Rider Team
Second Place
South Africa Team
Third Place
Time
1
Kylie Avery
13 NZT
Silands Jasark
5:52:46
2
Lois Hosking
27 NZT
Highlander
5:53:37
3
Denise Hill
20
Sheree
6:11:34
4
Paul Jeffrey
16 WRT
Chinook
6:15:01
5
Sharon Linton
10
Jerome
6:15:09
6
Linda Kenny
1
P.L. Mississippi
6:31:52
7
Linda Puller
4
Kishon Fashamataz
6:45:31
8
Villa Botha
24 SAT
Makahiwi Dominic
6:45:33
9
Teresa Birkett
22 NZT
Makahiwi Fyre
6:46:01
10
Fransisco Lopez
18 WRT
Gemstone
6:47:41
11
Andrea Smith
11
Sierra Nevada
6:50:35
12
Jaki Bickerton
9
Morroccan Fire
7:15:49
13
Melanie Barker
3
Arahi Ahmaj
7:21.27
14
Celia Martin
17 WRT
Makahiwi Gazelle
7:21:28
15
Gilise Deviller
35 SAT
Blue Thunder Shimar
7:43:07
16
Laura Woods
33 SAT
Heritage C.K.Mateus
8:06:22
1 Junior
Natalie Bickerton
46 Junior
JA Katarina
7:15:51
---
Steph's HOY Story
It seems like every story starts someplace else. And the more I travel, the truer this becomes. This story - the New Zealand Horse of the Year Endurance Ride - started for me in Malaysia in November 2007, where I met Paul Jeffrey (NZ). And of course the only reason I was even in Malaysia was because of Dr. Nik (Mal) who several years ago encouraged the Edaran Classic (Mal) ride organizers to invite me - for Endurance.Net and for a foreigner to experience Malaysia endurance. Since then I seem to have become a permanent fixture on the Malaysian Int.' endurance scene, no complaints from me!

And then of course my good friend Leonard Liesens (Belgium) is also part of the story. He also met Paul in Malaysia in November, and had earlier ridden the Edaran Classic at my encouragement. I've known Leonard since 1996, I answered a Ridecamp@endurance.net query from a Belgian looking for a horse for Tevis. Leo now sports a Buckle, and we have had many adventures together around the world. And then there's the Spaniards - new friends - amigos neuvos - friends and partners of Pauls that came to HOY to be part of the World Riders Team. New friends, and friends for life I think. I was immediately drawn to them, and now I've arranged to give Fransisco (Paco) Lopez a horse for Tevis 2008, and he in turn will provide a horse for me to ride the 10 day Al-Andalusia ride in Spain, 2008. 10 days riding across Andalusia.... And Paul Jeffrey was the catalyst for this adventure. He and his wife Madonna Harris live in New Zealand, the North Island, not far from Auckland. They run Casa Enduro Endurance Stable, with horses of Arabian and Trotter (Standardbred) breeding, they compete frequently, compete well. Madonna is an athlete - previous Olympic level cyclist with a good head on her shoulders and an amazing capacity for work as well as a commitment to excellence. I met Madonna in 2003 when she came to ride in the Pan American Championship (Trout Lake, Washington) on one of Bev Gray's horses. (she knew Bev from earlier years living in Park City, Utah, competing in ski sports and marathon running). circles and circles of relationships... Paul has an interesting history - martial arts (Kendo), body guard, herbal chemist, horse trainer and breeder... he has a very intense and no-nonsense manner, but quick to laugh and very generous. And also very focused and committed to acheiving excellence in his pursuits. Several years ago Paul and Madonna developed an herbal topical ointment - Antiflam - which they recently sold, and have now developed a similar product Fisiocrem, which they are currently marketing in Europe, and will eventually enter the AsiaPacific market. Paul and Madonna had been encouraging the HOY organizers to promote Endurance as one of the sports that they host. Their support has paid off, and this year Endurance was included as an FEI CEI** event. They also encouraged the organizers to stage the finish of the ride in the town center (Hastings). While many were concerned about racing into the finish amidst traffic, and along stretches of pavement, the organizers carefully controlled the final stretch, and it was quite successful. A bus brought people to the finish from the showgrounds, and the crows of curious towns people were huge. The finishing riders were smart and cautious, no problems with crowds and traffic. And they were fascinated. A real boost for the sport of Endurance in New Zealand. Paul had also been encouraging the HOY organizers to include a Team event in the Endurance competition. A great concept - really adds a new and different element to the sport. There is a strong sports connection between New Zealand and South Africa, and it was a natural thing to invite South Africa to compete. And the HOY took the relationship a little farther, by offering HOY competitors tickets to South Africa to compete in one of their rides. First place, Best Condition, 1 drawing among the NZ team, and 1 drawing among all competitors would send 4 NZ riders to South Africa. What a great idea for awards! So Paul put together a World Riders Team - Leonard from Belgium, Paco Lopez and Paco Paloma from Spain, and Paul. Paco Paloma couldn't make it at the last minute, so he sent Cecelia Martin - a friend and fellow endurance rider from Spain. Cecelia realized her great luck, and she never quit smiling. From the moment she arrived, to the moment that she crossed the finish line she had a huge grin on her face! We all flew in from various places (Leo and Caroll and I from Malaysia), Paco and his wife Esther, and Cecelia and husband Tomas, from Spain. Paul rounded us all up at the airport and we went to his farm to refresh, relax, meet the horses, meet each other, wine and dine and prepare for travel. Paul and Madonna have a wonderful home (converted from a vegetable farm and packing shed) on a modest sized piece of land. The house is open and light, very pleasant, with views of the green fields, the horses, and the huge New Zealand sky scape which dominates every room. Zoom zoom, rest, eat, ride, pack, and off to Hastings for the ride. Hastings/Napier is a charming beach town on the east coast of the North Island. Not far from the symbolic site of the 'First Sunrise of the New Millenium' - the populated piece of land which will first see the sun (eastern most time zone) as it rises on the day of the new millenium. Technically it's the Dibble Glacier in Antartica, but for the mass of people who came for whatever reason to see the first sunrise of the new millenium, it was accepted to be on the coast of New Zealand, not far from Hastings. (one must be practical...). Now this is a hard one for me: I'm currently in New Zealand typing away, it's 1pm on Tuesday the 20th of March. In Malaysia where I just came from, it's 7 hours later, 8pm on Tuesday, the 20th. Back home it's 6pm, 5 hours later, but it's still Monday the 19th of March... ouch, hurts my head. The drive to Hastings was gorgeous, a little cool and windy and wet, as a front had just blown in. But it seems that in New Zealand (a little tiny land mass in the middle of a world of oceans) whatever blows in will soon blow right by. The weather seems to change rapidly, and when the sun shines it's glorious. (if it's not shining at the moment, just wait a minute). We drove up to a high point in the center of the island, huge tracks of timber for paper and wood mills, little farms with sheep and goats and cows, fields separated by hedgerows, winding canyons with valleys of natural vegetations (some exotic looking species), the ubiquitous fern (NZ's national symbol), and green green green. And NZ seems so healthy! they eat well, the food is good and healthy, a very friendly and welcoming people. My first (and final) impressions have been of a very healthy society. They seem content with where they live and who they are. There seem to be societal issues between the colonialists (Great Britain strikes again) and the native people - the Maori tribesmen. Historical grudges, modern inequities, the Maori's have discovered the world of lawyers and claim to legal rights to what they once had (or perceived to have had) and they are now making demands on the government for retribution. Whether it's justified or not seems to be of differing opinion, and really only God (or gods) know... but that's the status. Same stories can be seen all over the world. We arrived in Hastings, riders settled in at the Palm City Hotel, horses to their pens at the show grounds. Paul and Madonna brought two women to help - Jo and Jenny - with the horses and crewing (strapping) - hard working, cheerful, seemingly tireless. And Rupert, friendly and smiling. Everybody worked so hard. And Casa Enduro Stable runs a tight ship - everything clean and organized, all the time. Everybody was exhausted by evening and we all did our own thing for dinner. Merri and I plugged into the internet at the hotel and started working. photos and story from previous days, plus I still had to finish up the Malaysia Kedah stuff. Constant tension between the old adventure (must finish) and the new adventure (must dig in right away). Lots of hours hidden away typing and working with one ear tuned to the current happenings. can't miss anything! Friday morning the riders went to the showground to ride the horses, I sent Merri along to take photos of the riders and all the other disciplines (pony games, show jumping, driving, etc etc). And I hunkered alone for hours to finish up the Malaysia coverage. I reached a stopping point and got a ride out to the show grounds for the Endurance ride briefing. Wow! what an amazing HOY event. the huge arena and stadium was hopping with energy - horses, riders, shoppers, gawkers. Really a big deal event. We wandered around, did a little shopping (new Ariats riding shoes), sampled the fair food - white bait sandwich, little tiny fried dougnuts, coffee (flat black or long white). A carnival type atmosphere. The ride briefing was typical - questions, answers, worries? no worries. a little confusion, but not bad. The South African riders showed up (via SA, Hong Kong, Auckland) literally just as the briefing started, they looked exhausted, a bit glassy eyed, but they made it. The OC took everybody on a tour of the course in a big bus - packed, standing room only, and I think it made people more confused rather than less... but an adventure in itself. Horses vetted, put away for the night, team meeting under the awning, packing, preparing, all the 'night before' activities. My role here was not rider or groom or organizer. Just to observe, to photograph, to record. I was able to stay out of the tension and immediacy of preparation. It's always interesting to watch - see the personalities interacting, the eager anticipation of the ride. The nerves taut, hopes high... horses munching warily off to the side, knowing what their job was? Back to the hotel, Merri and I still had work to do. She with new photos and story, me with some new stuff, and the last of the Malaysian work. Plus all the day to day correspondence needed to keep Endurance.Net running, and throw in a little ride organzer work (I'm hosting our National Championship this year, plus my standard slate of 100's and multidays... insane :) We were sharing a hotel room with Cecelia and Tomas, and suggested they take the bunks in the other room, where they could close the door and sleep while we worked well into the night. Crashed in the big double bed, and up in a few hours, the alarm ringing rudely, staggering through shower and coffee... and squeeze into Kate (one of the vets)'s jeep with Dr. Bala from Malaysia, his lovely wife Magis, and a few other bodies. We arrived in time for tea at the showgrounds as the dawn arrived, watching the riders entering the arena and warming between the huge (and scary) stadium jumps, gather together in small groups, and off they go. We cimbed into Nel (assistant to vet Mel)'s truck (a little more room) and headed out to the beach for the vet gate - all of the holds would be at the beach, with the finish on the main street back in Hastings. The farm at the beach was gorgeous. Several hundred acres of beach front and grassy hillsides, owned by Warrick Hansen (brother to Kevin Hansen, HOY organizer). It's a huge show jumping horse breeding farm. Really a special location. The crewing and vetting area was a grassy field with some older out buildings. The timers set up in a timbered shed, an announcer with a battery powered PA system, lots and lots of volunteers. Gum boots and leather 'outback' hats, nice atmosphere. We (Merri, Carol and I) set up for taking photos and watching the ride. I was given a quad (4x4) so Carol and I could ride up to the hills above the ocean, beautiful!!! Sheep everywhere, steep hills, panoramic views of the ocean. We took photos of riders coming up and going down, winding along the trails. Breezy but warm up there, very nice. Merri stayed down at the beach to catch the first riders. The ride progressed - riders in, riders out, vetting, crewing, fairly relaxed and 'down home' ride. Paul and Madonna's crewing was tight and professional, very efficient. They are sponsored by POLAR, and one of the NZ rep's was doing real time analysis of the horses' heart rates. Graphing working rates, altitude, recoveries and work peaks. After each loop, the rep would swap watches with each rider - taking the watch with the recent data for analysis, and giving the ride a watch which had been reset, to record the next loop's data. Very cool. And she could print the graphs and datas, the riders and crew could study it and plan the pace for the next loop. Which horses were working too hard? Which horses could work harder? The horses left for the last loop and we packed up to go to the town center for the finish. Leonard and his mare 'La Chica' were having a bad 'marriage' day. They did not get along, and this strong minded mare was rebelling - the more frustrated Leo got, the more stubborn La Chica became. So... he finally coaxed her out of the last vet gate, but when they got to the final river crossing, that was where she finally said NO, absolutely NO. That was that. Leo had to load La Chica into the van for a ride back... We arrived at the finish for a flurry of excitement. Crowds appeared, a busload of spectators from the showgrounds. very festive, very fun. and very scary! The horses were big eyed, ears flicking back and forth and all around. Many of the finishing horses didn't pulse down at the finish. Too excited? too hot? Many of the riders here didn't really know how to crew and how to cool a horse. I think most of them could have reached criteria if they had aggressively cooled their horses. But, those that didn't learned a lesson. For local riders the pace was faster than usual, and they didn't have enough respect for the pace, and the need to cool the horse, even with the air temperature relatively cool. So, another event, in another country. Many similarities between New Zealand and USA. And I've heard that Australia is similar too. Even though it was FEI, there was a relaxed, almost recreational feeling to the ride. Lots of comraderie, smiles, helping each other. Much more 'innocent' than the FEI rides in UAE and Europe. And next ... off to Paris for the FEI World Forum on Endurance, where the atmosphere will probably be quite charged! For now, bye, no worries :) Steph
---
---
More on HOY Endurance...
Endurance returns to HOY in 2007 this time with a full FEI CEI** 100 km event in both open, junior and international teams events. The course will commence at the Hastings Show ground main stadium Friday at around 6:30 AM, a convenient time for the riders as start times can be as early a 1:00AM. The course will take the riders across the Tukituk River and out to Haupiri Station at Ocean beach to end the first loop. Two more loops will be run on the station and take riders well down towards Cape Kidnappers. The final loop will recross the Tukituk and finish around 4 – 5 PM in the center of Havelock North. This ride will be the first time in NZ that a FEI endorsed ride will commence on the out skirts of a major town and finish in the main street of a second town.

This event typifies the advancement of the sport in recent times. Endurance riding in NZ began in Tokoroa in 1970. The distance covered was 50miles. The sport has grown and developed from then becoming a member of NZEF in 2004. The concept of Endurance is for horse and rider to cover a set distance 40 up to 160km and satisfy a vet at the end that they are "fit to continue". The format entails a preride vet check, then a massed start to follow a marked course. Riders have up to 15 minutes after the official start to cross the start line and young or excitable horses often do this. The distances of each loop vary but after each loop horses are required to pass a vet check to ensure they are still fit enough to do the ride. Riders must be mounted to cross the start and finish of a ride but can get off and lead at any other time on the course. On the course they travel at whatever speed they feel comfortable at. Those wishing to gain a placing naturally riding faster than those merely on the ride to enjoy the scenery and their horses.

The horse's heart rate must return to 64 beats or lower within 30mins of crossing the line of each loop and at the end of rides greater than 40km. They must also be sound and their metabolics indicating a happy fit horse. Riders can ride in any gear they wish providing they wear an approved safety hat and if they don't have safety boots on their stirrups they must have footwear with a heel. Other than these safety concerns there is no constraint on appearance.

The HOY 2007 event will prove a challenging test for both horse and rider. The course ahs never been ridden before so posses a fair challenge to all riders. While starts and finishes in town are common overseas this will be a first for NZ and will add to the challenge.

In conjunction with the event will be a team event featuring a teams from New ZZealand, South Africa, and a World Riders Team from Belgium/Spain/New Zealand. South Africa is recognized as a leading Endurance nation and will be a worthy opponent for the NZ and World Riders teams.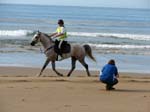 Carol Gatelier Gallery
Merri Travels
Stories
HOY 2007
Land of the Long White Cloud
Galleries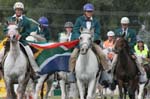 Closing Ceremony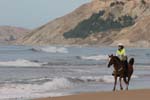 Morning Loop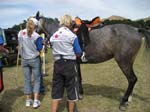 Afternoon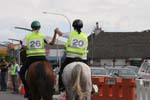 Finish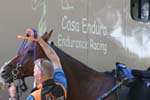 Vetting In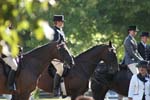 Show Time
---
---
Steph's Images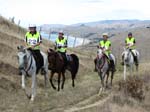 Ride Day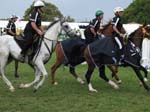 Closing Ceremony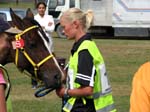 Finish Images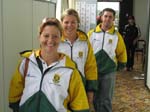 Preparations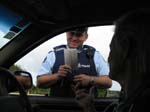 Travel