Edaran Endurance Classic:
Press Release May 08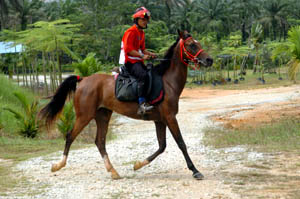 2006 Edaran Classic Hard, Challenging, Rewarding
Kuang, Selangor, 8 May 2006
Defending Champion Shamsudin Ronin Rides Away Again With The Top Place in the Edaran Endurance Classic 2006

Riders at the Edaran Endurance Classic 2006 braved the pelting rain and the cold as they took off on the FEI-CEI 3 Star 120 KM and the 80KM Rides which started at 10pm and 12 midnight respectively on 6 May and finished yesterday morning at ar-Raudhah Equine Centre.
FEI-CEI 3 Star 120KM Ride
Defending 2005 Champion Shamsudin Ronin astride Malin bagged the top prize of RM10, 000 in the 120KM Ride while Malin, owned by Fazlan Azri Tajudin was vetted the Best Condition Horse. The Best Condition Horse carried a RM2,000 prize money.

Shamsudin who was the only rider out of 11 participants to complete the challenging and tough CEI 3 Star 120KM ride, finished with a total riding time of 10 hours 56 minutes 24 seconds at an average speed of 10.98KM/hr.

Dr. Nik Isahak on Jogho was following at second place right through to the second last phase but was vetted out after his horse was declared unfit to continue because of a lame foot.
80KM Ride
In the 80KM ride, Muhmod Fand Rizan bin Ali astride Ras Cadiz won the first place and cash prize of RM5,000. He finished with a total riding time of 6 hours 56 minutes and 30 seconds at an average speed of 11.53Km/hr.

Second place went to Zairullah bin Mohamed Yusof astride Puteri. He finished with a ride time of 6 hours 57 minutes and 21 seconds and an average speed of 11.51km/hr. He won a cash prize of RM3,500.
Third and Fourth places went to Norazian bin Ad Rahaman on Dammok and Mohd Izry bin Razali on Blue Boy. They won RM2,000 and RM1,000 respectively.

A total of 22 participants took part in the 80KM ride.
40KM Event
The shorter 40KM Ride saw a total of 26 riders. First place was bagged by Suahana Arip astride Flash. He finished in 3 hours 46 minutes and 11 seconds at an average speed of 10.17 km/hr.

Second place went to Muhamed Izuzudidin Md Salleh who ride G'girl. He finished with a total ride time of 4 hours 38 minutes and 20 seconds at 8.46 km/hr.

In third place was Athera binti Abdul Ghauth on Snowdee. She finished with a total ride time of 4 hours 46 minutes 47 seconds at 8.40km/hr.

Fourth and Fifth places went to Paul Morris astride Bremervale Highlander and Tan Say Biow astride Milawakee.
CEI 3 Star 120KM Ride - Qualifier For the Doha Asian Games 2006
The CEI 3 Star 120KM event was a significant ride for participants as it represented one of the five qualifying competitions for the selection of endurance riders for the Doha Asian Games in December this year.
International Participants
The Edaran Endurance Classic 2006 marked the fourth endurance competition organized by Edaran Digital Systems Berhad. The Event attracted a total of 66 participants out of whom 61 horses passed the veterinary inspection and qualified for the competition. International riders were from the U.S.A, Belgium and the United Kingdom.

The Prize Giving Ceremony which was held at Pavilion Ar-Raudhah was graced by Royal Guest of Honour, DYMM Sultan Mizan Zainal Abidin Sultan of Terengganu, Malaysia, who himself is an avid endurance rider.

The Event was also graced by the presence of several visitors from Doha, Qatar.

Edaran Endurance Classic 2006



The Edaran Endurance Classic was initiated in 2003 with the aim of promoting th e equestrian sport of endurance riding and developing a love for the sport among Malaysians.

Organized by Edaran Digital Systems Berhad, a company involved in the provision of systems integration services and smart technology solutions the Edaran Endurance Classic seeks to raise the status of the sport to a level where it can bring sporting glory, excellence in sportsmanship and recognition for our Malaysian endurance riders in the local and International sports arena. It is also the objective of the Edaran Endurance Classic to play an effective role in placing Malaysia more significantly on the endurance world map. Indeed, ultimately, the Edaran Endurance Classic seeks to contribute to the sports tourism industry of Malaysia by attracting quality and high end visitors associated with the sport when Malaysia succeeds in becoming a recognized and preferred location for International Endurance competitions.
---
Endurance.Net travelled to Malaysia to participate in the Edaran Endurance Classic 2006. Correspondence & Photos:
May 07
We start at midnight tonight. And when it's dark here, it's really dark. Deep forest canopy, clouds and mist block any ambient light. The first loop winds through the date palm forest - hillside trails, crossing creeks, winding around the towering palms. It's gonna be interesting :)
(..continued)
---
The Ride
Here's my ride story - more story than riding, but I've come to appreciate the cultural complexity of this sport, and I enjoy the whole experience - the travel, the individuals that pop up from obscure lives in small countries to be 'stars' - or at least achieve significance at some level of this sport. ... full story
---
2008 WEC
The history of Endurance in Malaysia is fairly short, but the country has demonstrated that they are capable of organizing and hosting first class Endurance competitions; adherence to FEI rules of conduct and fair competition, first class stabling and trail conditions, safety,and concern for the welfare of the horse. In 2005 FEI granted Malaysia the 2008 World Endurance Championship, ... full story
---
Photo Gallery
| | |
| --- | --- |
| | Arrival in Kuala Lumpur, a little bit of shopping, selecting horses, and High Tea at Ar-Raudah Equestrian Center with the Edaran Classic Organizing Committee, guests and sponsors. |
| | Azri Ghani drives us from the Corus Hotel in Kuala Lumpr to Ar-Raudah Equestrian center, with a stop at the KL Equestrian center to buy a helmet, and a cup of coffee. (they drive UK style here - on the left side of the road) |
| | Technical briefing and vetting the horses in. Tropical rains began just as the vetting started. |
| | Race Day/Night -- it was wet!! the course challenging - with 60+ starters in all divisions. |
| | Closing Ceremony |
| | Langkawi Island - Tanjung Rhu Resort - Mangrove Tour |
| | Langkawi Island - Tanjung Rhu Resort |
Kuala Lumpur, 18 April 2006
Edaran Endurance Classic 2006 - RIDE THE CLASSIC AGAIN!
Malaysia's premier and most anticipated endurance event is back! The Edaran Endurance Classic is back for its fourth year running after succeeding to catch the interest and attention of international riders in its 2005 event.
The event organized by Edaran Digital Systems Berhad has continued to gain recognition among endurance circles worldwide ever since it was inaugurated in 2003. In 2005, the Event was graced by World Endurance Championship's Gold Medalist HH Sheikh Hazza bin Sultan Al-Nahyan and his brother HH Sheikh Khaled Sultan who were here with the endurance riders of W'rsan Stables of Dubai.
Edaran Endurance Classic 2006 will be held at the grounds of ar-Raudhah Equine Centre, 40 minutes drive from Kuala Lumpur, Selangor, from 5-7 May.
The Event this year will feature three competition rides and one non-competitive 15KM guided ride. The main competition ride will be the FEI-CEI 3 Star 120Km Ride, a distance in keeping with the standards of the World Endurance Championship.
A second ride category in the Edaran Endurance Classic 2006 is the 80km Ride, a ride category for endurance riders training for longer distances; while a third category yet, is the 40km Ride, a shorter training ride for newly initiated endurance riders.
A total of RM45,000 in prize money stands to be won.
..continued
---
Equestrian.com.my: Tuesday, April 18th, 2006
Edaran Endurance Classic 2006

The Edaran Endurance Classic 2006 was launched today at the Corus Hotel in downtown Kuala Lumpur. Two Arab horses were brought in especially for this launch.


Photo by equestrian.com.my
Desert Queen and Desert Princess, recently imported from Australia, were ridden by Tuan Hj. Mohd Shu'aib's "princesses" Nabilah and Nabihah.

This is the fourth consecutive year that the Edaran Endurance Classic is being held. It takes place at ar-Raudhah Equine Centre, Jalan Kampung Bunga Raya, Kuang Selangor, from 5th to 7th May.

Earlier, Yang Berbahagia Dato' Abdul Hamid Mustapha, chairman of Edaran Endurance Classic welcomed the media and guests to the press conference. This year the Edaran Endurance Classic's main ride is a CEI*** 120 km event. It is one of 5 qualifying events for the Doha Asian Games this year. There are three other rides, an 80 km, a 40 km and a 15 km Young Riders Guided Ride.
...full story
---