Come train with me!
The focus at FMA today is in training new riders , and conditioning endurance horses. With this in mind I hope that I can help eliminate some of the mistakes that I made when starting out and also share with new riders all that I have learned in the last 25 years. There is so much involved getting a horse ready for the first ride. I want everyone to have a great experience from the beginning. Managing the endurance horse correctly is what will help you complete your first ride and insure that you will be ready for the next one. I cover conditioning, pacing at the ride, success at the vet check, choosing the correct tack, evaluating your horse's strengths and weaknesses and selecting goals that reflect your own personality and that of your horse. I will also help you with whatever issues about which you may have concerns. If you don't yet have a horse, I will help you find one. Many of the winter rides are in my area. Come train with all of us at FMA.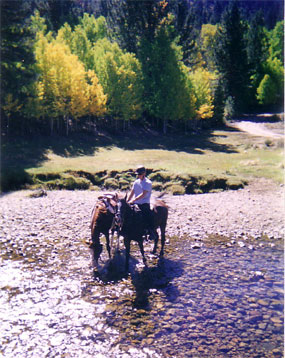 During the mid 1970's Jim and I developed an interest in distance riding. In that we were both teaching at our local Community College, we decided to teach a distance riding class as the college. It was a great success and the beginning of endurance riding as we know it in the Indian Wells Valley. This was also the beginning of our interest in breeding good endurance horses. In 1980 we purchased our stallion, Sierra Fadwah+/ then 7 years old. Lorry Wagner of Sierra Dawn Arabians had also developed an interest in endurance riding after crewing at the Tevis Cup and had bred Bezatal's only full sister, Judhi, to Fadjur at the Jack Tone Ranch. The Tones bred Fadjur back to Judhi producing a filly, Fad Highness. We later leased Fad Highness and bred her to Isabel Pheiffer's Abu Farwa bred stallion, Shebu. The result of this breeding was Fire Mt. Fad Serene 1992 5th National Middleweight. Lorry's interest later changed from endurance to the show ring, and Jim talked her into selling the stallion, Sierra Fadwah. Jim and I had watched him grow up and beside his endurance breeding, he had the bone, size, and disposition we felt important for our distance prospect. He had the size, color, and elegance of his dam, Bezatal's full sister, and possessed the wonderful disposition of his sire, Fadjur.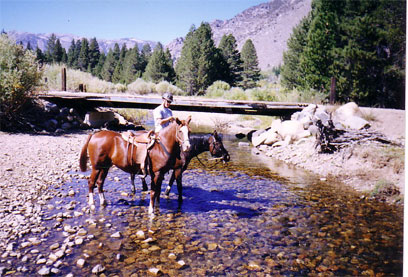 Shortly after purchasing Fadwah+/, we were able to acquire two sons, Sierra Fadrazal+/ and Fadwah's Desert Renegade and a short time later a third, Sierra Fad Farrah, who was a Class A trail horse. These three horses were campaigned right along with their sire, Sierra Fadwah+/. Sierra Fadrazal+/, one quarter Quarter Horse, has over 8,000 career miles. He won several multi-day rides, completed the Tevis Cup and Virginia City 100 four years in a row, did over 20 one hundred mile rides and received numerous Best Condition Awards. As their sire continued to pile up the miles, Desert Renegade, a part Saddlebred, carried Jim's 285 lbs. through Tevis in 1985 and in 1987 was sixth at Tevis with Linda Kovisto and 8th at the difficult Bryan Head Race of Champions with Linda Keene where only 16 of some 80 starters completed. Linda Keene and Renegade had been second at the Virginia City 100. Steve Shaw purchased him and besides excelling at endurance he was an excellent Ride and Tie horse, finishing 3rd at the Alturis Levi Ride and Tie. Steve also took him to a second place finish at Tevis.
Later Sierra Fad Farrah also carried Jim through the Tevis and a spot in the regional standings and was subsequently purchased by Jane McGrath who finished 16th at Tevis and accumulated over 5000 miles. Happy, as he was affectionately called, did not begin his endurance career until he was 11 years old after a very successful show ring career. At age 24 he is still taking beginners through the shorter rides and doing Ride and Tie as is his younger brother, Sierra Fadrazal+// age 23.
During these years Fadwah was bred to proven endurance mares or to producers of proven horses several of which were Rushcreek mares. During this time he accumulated over 7,000 miles, completed many of the original multi-day rides, the Tevis Cup twice and during one period in 1983 went over 600 miles in six weeks-the 5 day XP, the Capitol to Capitol, 200, the Virginia City 100 and the Norco 50.
Jim's great interest had always been the race track so he had to try his Fadwah get on the Arab track. Fadwah Marchoy, bred by Paul Critchfield and later purchased by Jim, won the $20,000 ARAC Sprint and retired to endurance in 1998 after earning over $45,000. For several years all the Fadwah get who went to Los Alamitos won--Fadwah Marchoy, (Fire Mt. Marchoy) Fancy Two (Fire Mt. Fancy), Fire Mt. Smoke, Fire Mt. Fargo and Fire Mt. Flash. Many of these have gone on to be winning endurance horses.
Jim retired in 1996, got his trainer's license and went into racing Arabs full time. Jim and I divorced in 1999.
I have over 29,000 career miles and condition my own endurance horses. I have generally ridden 1000 miles per year usually finishing in the Region MWT standings and several times in the national standings. I also was part of the squad that traveled to Flesterton, Canada for the North American Championship.
Fire Mt. Arabians also sponsors the Fire Mt. Award of Excellence which recognizes the horse and rider teams who complete all three rides sponsored by Fire Mt. Arabians, The Death Valley Encounter 200, the Twenty Mule Team 100 and the Eastern High Sierra Classic 50.
Sierra Fadwah+/ passed away a few years ago. He won the Jim Jones Award in 1983 and was later elected to the AERC Hall of Fame. His offspring have gone well over 55,000 miles and his get have not only excelled for years on the endurance trail but also won in the show ring, the cutting arena, and as well as on the track. His son RTR Rimfire is owned by Dublin Hart and is standing at Fred Emigh's ranch in Georgetown, California. Fred absolutely loves Rimfire and he has an incredible disposition especially in that he is a stallion - contact him at skyoak@gmail.com or 530-333-2126.