WEC Home
Photo Gallery
News & Blogs
Track Maps
---
Interactive Course Map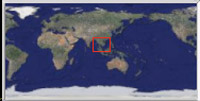 Requires Google Earth
---
Official Website
---
2007 Pre-Ride
Tension is rising...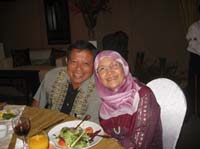 Last night was the last social big gathering - the Welcome Reception - a very fun night with dinner and live band and DJ and a delightful 'Floating Sky Lantern' ceremony out in the grass in front of the starting gate. The Sky Lantern is made of non-flammable rice paper and a bamboo frame - a little candle is positioned in the center, and when the candle is lit it heats up the air in the lantern, or balloon, which then floats skyward. It is considered good luck to release a sky lantern as they are symbolic of problems and worries floating away. It was fun to see each of the nations trying (with varying levels of success) to launch their lanterns.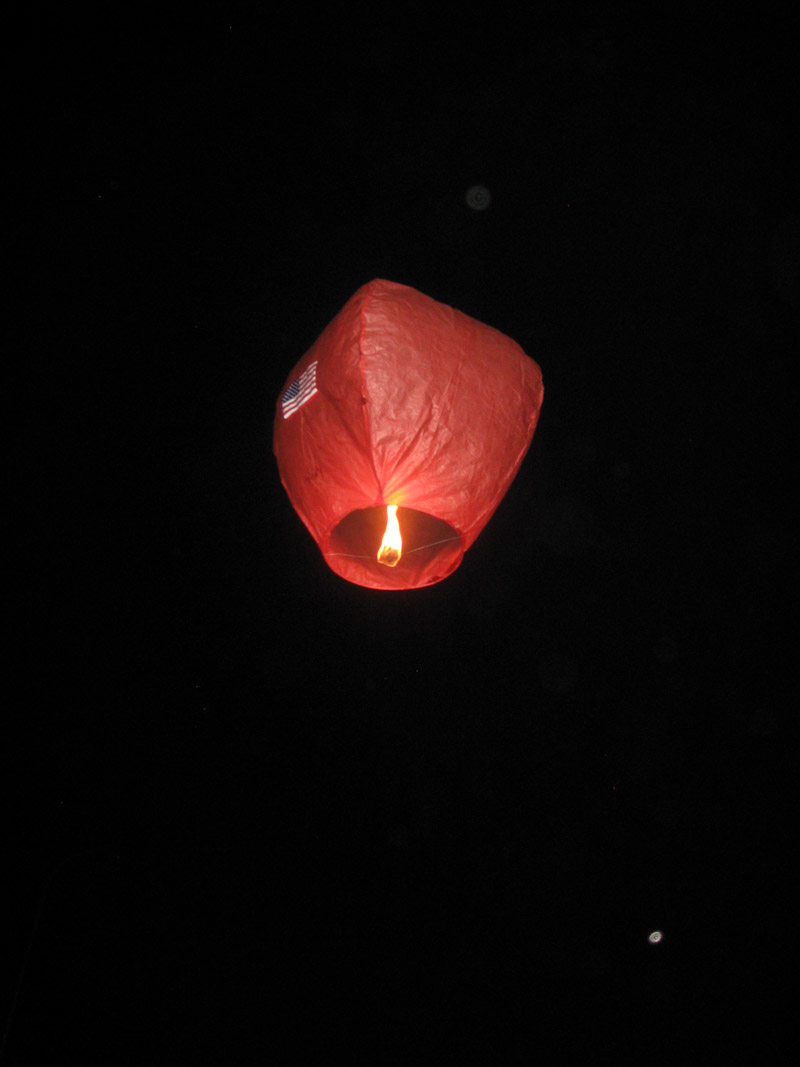 Now the riders, crews, vets, chefs are focusing, and mostly READY to start. Several little problems are popping up in some of the stable, typical of bringing 150 horses from far lands to a new place. Plus add the tensions and stress of being at the top, representing your country, realizing years of dreams and plans and hard work... the gremlins appear. A few injuries and mishaps: one horse was hurt while it's pastern was being close clipped with scissors, one of the Canadian horses has developed anhydrosis - it's sweating mechanism is not functioning properly, one horse experienced rhabdomyolysis (tying up) to the extent that it will not start, a suspensory strain, a sore back, sore feet - shoeing problems... and so on. It is heart breaking to make it this far only to have to withdraw days before the event.

John and I drove down to Melang two days ago. We left the beach hotel at 4:30 AM in the dark, raining hard, following Penn who was not wasting any time on the road - it was a challenge to keep up on the narrow dark rainy roads with the occasional stray water buffalo and slow/old delivery trucks. But I've semi-mastered the knack of driving on the left side of the road, and with John helping navigate... we made it!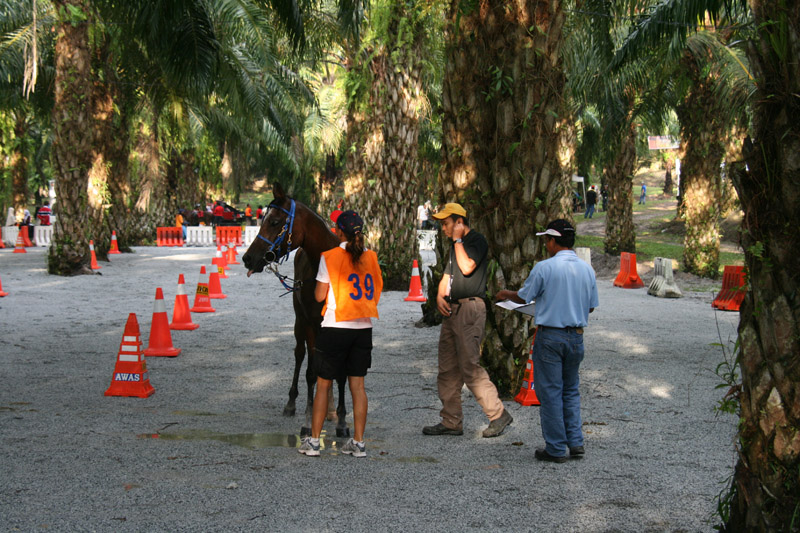 Tuanku Mizan rode in this local ride, taking his two older children on their first 40km endurance ride. It was a small local ride, first time at this venue with the vetting area set into an old palm plantation - huge old towering palm trees - it was beautiful. The track went through the forest, winding hilly trails. It was also very rainy, and I could only take a few photos because of the darkness with the rain and the forest. We left early, and Burn drove the car home - much less stressful! We stopped at a little local restaurant along the coast for a cup of coffee. No English spoken here! Mostly older men, probably retired and this is where they spend a large part of their days in the company of friends. We had a cup of wonderful Terengganu coffee, with a half inch of sweetened cream at the bottom of the cup, to stir in as much as desired. The coffee here is sugar roasted - which gives it a very black color, but it is surprisingly smooth and gentle - no bitterness at all.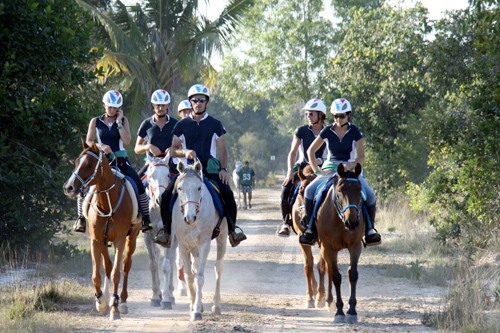 Other than that, our days have been a mix of taking photos (riders on beach, riders on track, people doing stuff..) and setting up the web pages, making galleries, publishing stuff. Very busy, but very pleasant. It's been really really hot - and dry - the forecast for the race is more of the same. Everyone is getting worried about the heat - for the riders sakes as well as the horses. It's much cooler at night, but depending on the timing of, or lack of, thunderstorms it could be very still and humid and tough riding conditions. This will most certainly test the skill and strategy of the riders, and the preparedness of the horses. The veterinarians are going to be REALLY REALLY strict, and on the lookout for potential problems - hopefully to be identified before the horse becomes compromised. It's going to be tough.

Tonight we're going to the press reception - at the Primula Beach Hotel in Terengganu where the press (except for us!) is staying. It will feel like 'old home' week with a chance to see our press friends - Cidinha and Pamela and Alice and Satya and Gilly - and all the other friendly folks that frequent these events.

-later

Steph