Moving along...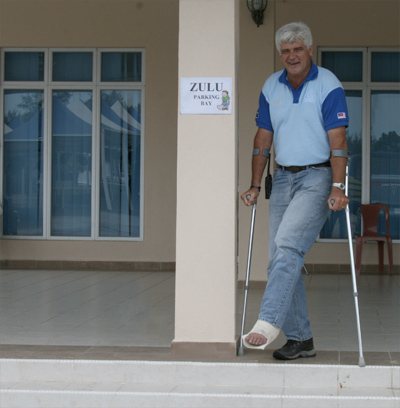 Zulu is now on crutches. He charged into the jungle to save a Portuguese horse (which had dumped its rider and run off ) from a pack of wild Malaysian Tigers and after he saved the horse he fell into a trap set by one of the Wild Men of Borneo but fortunately the Man From Snowy River just happened to be riding by after having just saved one of the Italian riders from a pack of Malaysia Cobras and was there to pull Zulu out using his bull whip and the Wild Men of Borneo were so impressed that they have volunteered to be track stewards for the ride.
But other than that it's been a fairly quiet week. The riders/grooms and horses are settling in to a routine, more people arriving daily, construction going up all around. Tents, pavilions, parking lots being paved and painted, new posters and buntings all around town (with the addition of the new sponsor, Deyaar, the posters had to be reprinted). There was a fantastic Welcome Dinner/party at the Sutra Beach Resort. Incredible food, very friendly and festive. Lots of good laughs, good DJ music, and a little dancing on the patio by the pool. (and in the pool).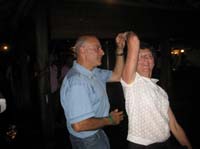 The Malays are such wonderful friendly hosts and it shows in the attitude of everybody here. Plus this event, even so early, is phenomenally organized. Typically people at these big events are much more anxious - but here everything is so well organized - every detail has been thought through and the communication between organizing committee and competing nations is fantastic - people are so much more relaxed. They can take care of their horses, their teams, themselves, all the important stuff, without worrying about organizational details of the event. It's - so far - the best organization I've seen at a World Championship. And the most friendly and accommodating as well.
I'm having a great time with old friends - people from other events that are like family now. And making new friends - there's always something/somebody new at each events that results in lasting friendships. I'm already making plans to travel to Hungary next summer for the WEC for Junior and Young Riders. And go through Russia on the way to do Nikolai's 'Tevis' ride on a Kabardin horse (bred by the mountain tribesmen of the Northern Caucasus). So many plans and dreams - and sometimes they actually happen!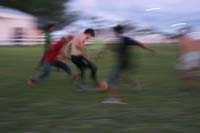 The grass arrival/departure field at the venue has become a soccer field over the past few days. Malaysia vs. The Rest of The World. Nightly football games - these guys are good!!! and it's really fun to see the friendly competition. I don't know where they get their energy though - ride their horses in the day, play soccer in the evening, party on the beach at night....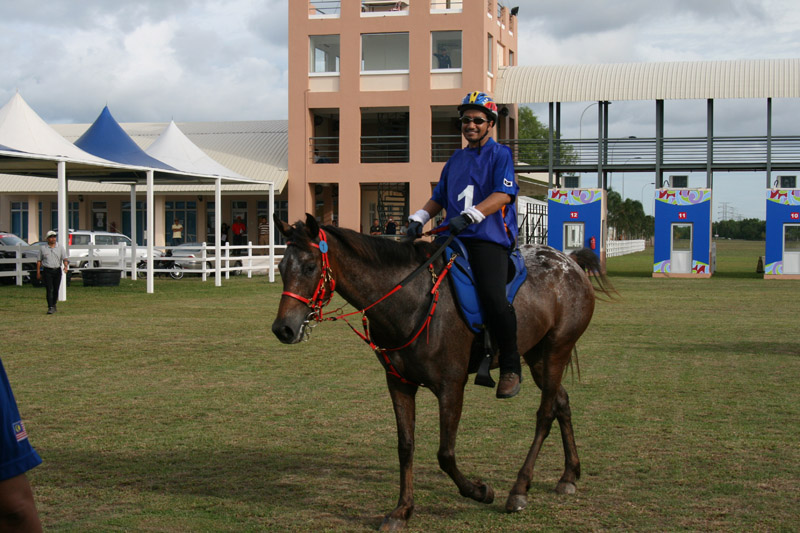 I saw Tuanku Mizan (the King) the other day, I was driving the track trying to get some photos and the motorcade came around the corner - Tuanku and Halim riding the horses they would compete on. Both horses recently arrived from Australia, where they earned their CoC. The King's horse, Taljarri Moonlight Pharoah, is an Arabian - Appaloosa cross which was owned by Brook Sample (... from Snowy River?) . Halim is also riding an Australian horse. There's a local endurance ride next week, an hour's drive north of here - Tuanku Mizan will be riding with his 2 children in the 40km/80km (elevator) ride. It will be their first endurance ride. I'm hoping I can catch a ride up there and watch and take some pictures.
That's about it for updates. I'm going out this afternoon to watch/photograph the practice 'Rescue Operations' - the military is here in full force with vehicles, medical and veterinary units, security, communications technicians. This will be a practice session - to test communications, emergency routes, etc. They will go out , somewhere, and stage an emergency, and then practice a fast response. Should be interesting!
- later
Steph