03/09/2006 - Closing Speech by the FEI President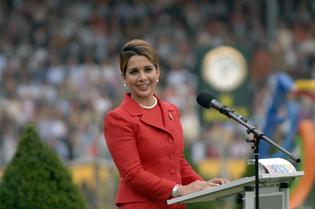 HRH Pruncess Haya during the FEI WEG closing ceremony
Federal Chancellor, Excellencies, Ladies and Gentlemen, FEI World Equestrian Games Competitors, equestrian supporters from around the world, dear guests of honour and citizens of Aachen.
I stood in this very arena 14 days ago at the sunrise of this 5th FEI World Equestrian Games and I shared with you my hopes and dreams that this global celebration of the horse would provide a platform for a new dawn for the horse world and you have proved us right even beyond our wildest dreams, and expectations.
All of us who were visitors to this region have been overwhelmed by the welcome which we have received from those of you that live here. You are a special people and a special audience and the atmosphere in this arena and across the showground has been inspirational.
As a community and as a nation you have been generous to all peoples of all nations and you have made us feel members of your family here in the region of North-Rhine Westphalia and the Federal Republic of Germany.
Your welcome has been seen by this generation of horsemen and women and will be recorded in the chapters of equestrian history.
I say to you on behalf of all those who have basked in the warmth of your hospitality "Wir lieben Aachen".
You have been able to provide the substance and platform to make these Games possible, and I know that you will join me in saying that it is the athletes who have given it the breath of life and moulded its soul. Their performances in the arenas and their statesman like behaviour outside the arenas have been an example to all.
We hope that generations of future athletes competing here at CHIO Aachen will benefit from the legacy of the magnificent facilities of the 5th World Equestrian Games. You have set the new standard for the Championships to come. On behalf of the equestrian world I would also like to thank all our world partners, the organisers, officials and volunteers for making this occasion so memorable. The FEI is at the heart of horsesport and that heart is beating strongly here in Aachen.
In all walks of life there are people, who are a catalyst to those who stand in the limelight, never asking for any recognition themselves. It is often the smallest of efforts that create the most miraculous achievements. Sometimes Humming Birds roar louder than lions - and so - I salute our grooms, crews, and support teams. It is you who create the symmetry, harmony and team work that is the cement of our equestrian family.
And now to everybody here. In addition to staging this wonderful celebration of horsesport you have given us an extraordinary gift
You have given us the gift of unity.
Through the horse you have brought us together.
At the end of previous FEI World Equestrian Games, the disciplines have waved goodbye to each other with an agreement to meet again in four years time at the next FEI World Equestrian Games. We will not do that today, now we are united as a community by our shared love of the horse and our shared experience of Aachen 2006 and we will move forward from this moment, united, I give you my pledge.
On behalf of all of you and all those who have followed this FEI World Equestrian Games around the world, I salute the achievements of all the athletes. Some achieved their dreams and some have found the hand of fate less gentle but whatever their contribution, let us also celebrate the true star of these Games. A star who does not seek reward, recognition or recompense, but whose trust is unquestioning and without whom we would be lesser as human beings. The horse.
Although oceans may divide the people of Kentucky and Aachen, horses unite you and I know that I speak on your behalf when I wish the community and organisers of Kentucky 2010 the very best in their preparation for their Games.
When we come together again in Kentucky in 2010, horsesport will be embracing more nations and we will welcome, for the first time, the athletes of Para - equestrian. And we will be stronger as a result.
Through the success of these Games, we have moved into a new era where we can look upwards and outwards to a new horizon, a new inclusive period in the history of The Horse. Through our efforts we must always strive to pursue the Olympic ethic of higher, wider and stronger. However, we must always remember the words of the founder of the modern Olympic movement, Pierre de Coubertin: "The important thing in the Olympic Games is not winning but taking part. The essential thing in life is not conquering but fighting well".
But now the sun is setting on these glorious championships and it is my duty, here this afternoon, to push the last grain of sand through the hour glass of the history of these Games by saying:
I declare the 5th FEI World Equestrian Games Aachen 2006 ... Closed

Contact steph@endurance.net to publish news, photos, updates of your Federation on this website!


Event Coverage Sponsorship: