| | |
| --- | --- |
| | Australian WEC Team |

Chef D'equipe: Dr. Patricia McKay-Annetts
Team Veterinarian: Dr. Anne Barnes
Assistant Chef D'Equipe: Kerry Spratt
Assistant Veterinarians: Dr. Pat Hodgetts and Dr Robyn Mather
Crew Manager and Team Co-ordinator: John Simpson
Equine Therapist: Emma Kirby

Horses and Riders
| | |
| --- | --- |
| GILBERTSON, Jennifer Mary | Harriet |
| SAMPLE, Brook | Archduke |
| TOFT, Penny | Bremervale Justice, Tora Blar-zay (reserve) |
| TOFT, Peter | Electra BBP Murdoch |
| WADE, Margaret | Schuska |
---
Meg Wade and China Doll
This combination have recently completed their Aachen preparation with a top ten placing at the 2006 Tom Quilty Gold Cup ,Australia?s National Championship ride . Meg had a good run with this horse under European conditions last year , placing a gutsy 5th over the WEG track at the European championships in 2005.
---
Penny Toft and Bremervale Justice
Our most experienced combination , Penny with many miles of desert and continental racing experience , and Justice the wonder horse, arguably the most successful endurance horse ever , with many placings and team medals in International competitions.
---
Peter Toft and Electra BBP Murdoch
Affectionately known the world over as the "lil 'ol appy" , this appaloosa arab cross gelding has carried his heavyweight rider to complete and compete on four continents . Most notable are Two tevis USA top ten completions , and a 17th overall and Team Silver Medal in the 2005 World Endurance Championships.
---
Brooke Sample and La Mancha Archduke
Brooke is a household name in Australia with a reputation as a determined and talented rider , he has won the Australian National Championship Tom Quilty Gold Cup five times . Brooke and his WEG mount , La Mancha Archduke won the recent CEI*** 160k Trans Tasman Challenge and just yesterday , a few days before flying to Aachen , they were equal second at a tough local 80km ride.
---
Jennifer Gilbertson and Bramall Jazzmin
Jennifer and Jazz were a part of out Silver medal winning team at the 2005 Dubai World Endurance Championship. Jazzmin is owned by Toft Endurance.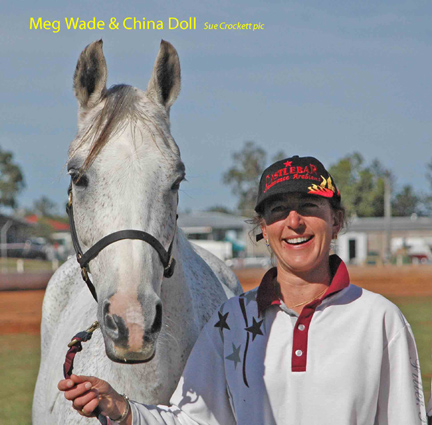 Meg Wade & China Doll
---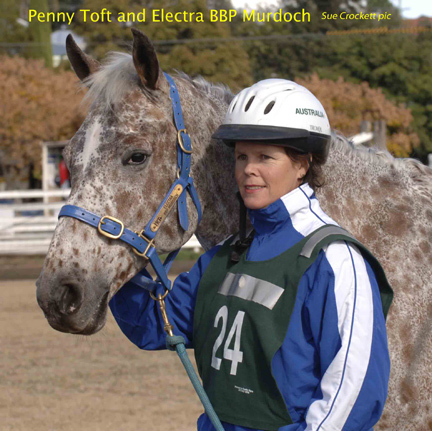 Penny Toft & Bremervale Justice
---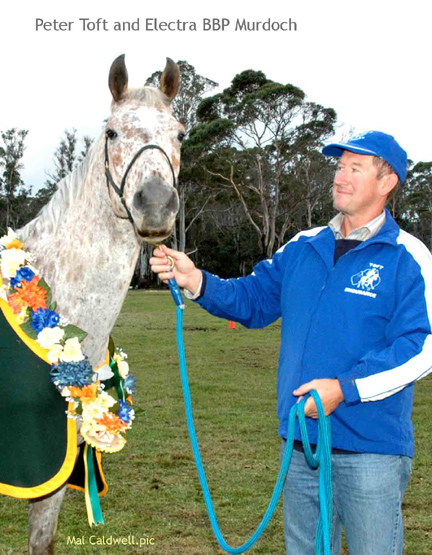 Peter Toft and Electra BBP Murdoch
---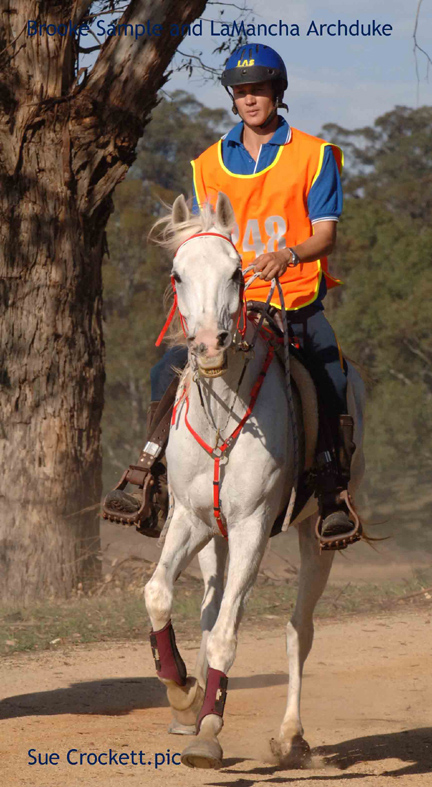 Brooke Sample and La Mancha Archduke