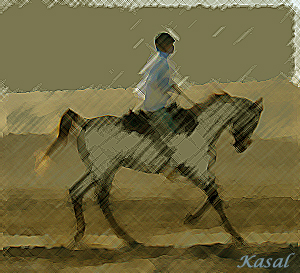 World Endurance Championship - Dubai - A Personal Story
As I try to define the beginning of this adventure - where does it start... I find it impossible - many paths led to Dubai. It's a spicy mixture of technology, culture, opportunity, and total devotion to the horses and the sport of Endurance. I guess the best way to 'start' is with the Argentina connection, as that is what led to the purchase of the seat on the plane, which landed me on Arabian soil at this time.
So here is my 2004 WEC story, emails written over time, with images and memories and a few philosiphical wanderings thrown in, because I can't help but be constantly amazed at the adventures, and events that occur because of the sport, because of the horses.
The chapters are rambling, back and forth between events. Each time I sit and write, the events arrange themselves in different ways, different shades of blue, like the mountains of the Appalachias. Sometimes I'm looking out, sometimes looking in - but for me each perspective, each part of the story is meaningful, for different reasons. And the story will continue... Insh'Allah. Steph Teeter
The sound, image, feeling of tearing across the desert with Arabic music blaring out the windows, Sheikha Madiya at the wheel, Grace riding shotgun, Claudia and I in the back seat, Mercedes and Kasal galloping along beside us - this memory will be with me forever.